On October 17, Wednesday, two men were given hefty fines by the Agri-Food and Veterinary Authority of Singapore (AVA), who mean business when it comes to the well-being of animals. In unrelated incidents, one man was charged $7,600 for illegally importing and possessing different kinds of tortoises and turtles, and another man was charged $2,000 for abandoning two pet cats.
24-year-old turtle-loving Joey Law Swee Siang has accumulated $7,600 in fines from the AVA – $4,000 from illegally imported a rare leopard tortoise in April of this year, $3,000 for possessing an African spurred tortoise and $600 for hiding a razor-backed musk turtle at home. Two other charges for possessing a Mekong snail-eating turtle and a snake-necked turtle were also taken into consideration during his sentencing.
The AVA and the Immigration and Checkpoints Authority (ICA) worked together to find Law guilty of illegal importation and possession of wildlife.
On April 13, ICA officers found a small leopard tortoise hidden in an eyeglasses or sunglasses case inside the glove compartment of a Singapore-registered car at Woodlands Checkpoint. The ICA passed the case onto AVA for deeper investigations.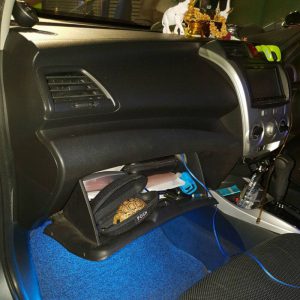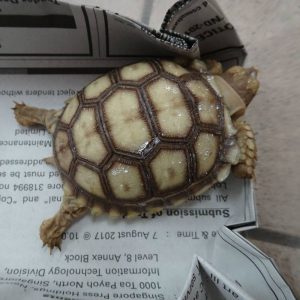 AVA officers visited Law's residence to conduct follow-up checks on the same day and found the four other illegal wildlife animals in his home, all of which they confiscated. The leopard tortoise, African spurred tortoise and Mekong snail-eating turtle are protected under the Convention on International Trade in Endangered Species of Wild Fauna and Flora (Cites) and are not considered approved pets.
Keeping and trading wildlife and wildlife products is punishable by a fine up to $1,000. If the species is protected under Cites, those convicted of illegally possessing or selling such species can be fined up to $500,000 and jailed up to two years. In both situations, the animals will have be seized.
The authorities have again reminded travelers to not succumb to the temptation of importing or keeping exotic pets as it will fuel the illegal wildlife trade.
Besides the protection of wildlife, certain animals are not suitable to keep as house pets – they may have diseases, become out of control or pose safety risks to the public.
Additionally, animals that are not endemic to Singapore may also threaten local biodiversity if released into the environment.
The poor tortoises and turtles that Law illegally imported and kept are currently in the care of Wildlife Reserves Singapore.
It's time to shift our attentions to little kitties who were cruelly abandoned by their owner.
On the same day that Law was fined, 24-year-old Muhammad Firdaus Samsudin was also fined $2,000 by the AVA after he was found guilty of abandoning two pet cats.
AVA announced that it takes a very stern view on pet abandonment.
"We investigate all feedback on pet abandonment and will take enforcement action, where necessary," AVA authorities said.
Samsudin, who abandoned his two cats in a pet carrier in a carpark, has gotten off rather easy with the $2,000 fine and zero jail time. First-time offenders guilty of pet abandonment can face a fine of up to $10,000 and time in jail up to a year.
The AVA also banned Samsudin from owning any animals for six months.
On November 4, 2017, a resident of Block 504 Yishun Street 51 found two cats abandoned on the rooftop garden of the building's multi-storey carpark and reported the incident to the AVA.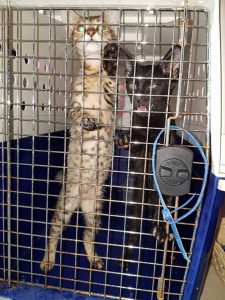 Samsudin had placed the cats inside a pet carrier, which he covered with a blue canvas sheet, and just left them there.
The AVA investigations discovered that Samsudin was indeed the owner of the two cats.
The two kitties have since been re-homed and are hopefully happy and no longer in danger of being abandoned.
The AVA said that protecting animal welfare is a "shared responsibility" that requires the cooperation of everyone, including the general public.
Cases of animal welfare issues can be reported to the AVA's website or via its 24-hour hotline at 1800-476-1600. Photo and video evidence will also be a big help to the AVA in its investigations. All information shared privately will be held in the strictest confidence.Follow us on Social Media
Send in your scoops to news@theindependent.sg