Sharing photos of himself and ex-Foreign Affairs Minister George Yeo at the Lunar New Year Reception 2019 at the Istana, Emeritus Senior Minister Goh Chok Tong announced on Thursday that "George Yeo is back with the Aljunied Team! He is fighting fit."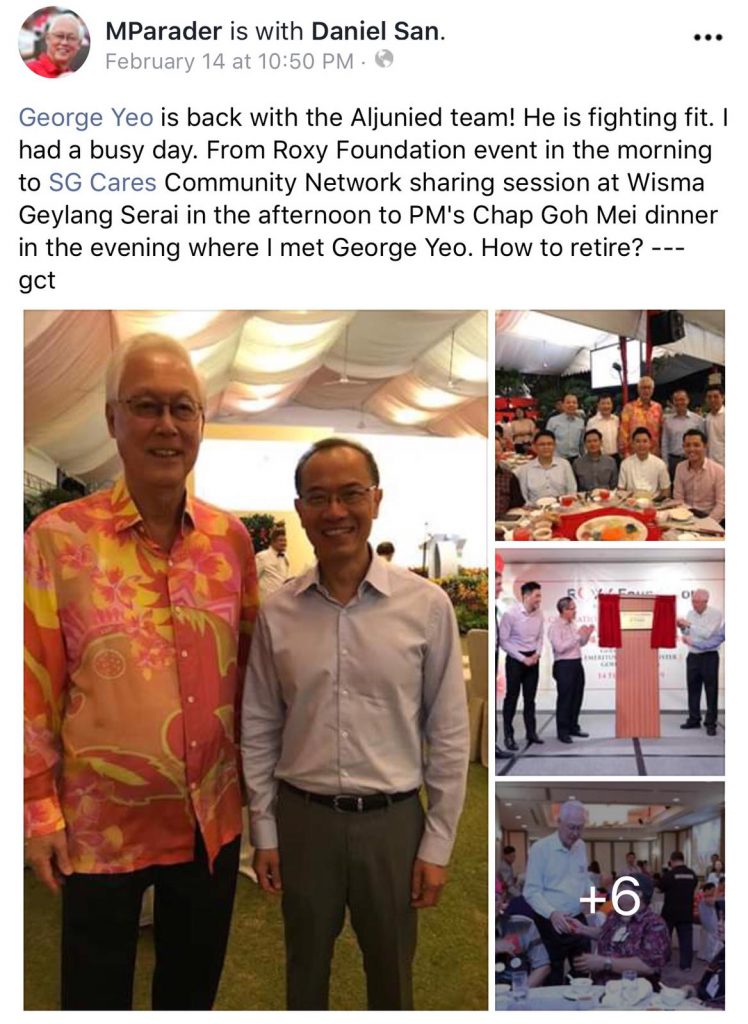 ESM Goh's words could be taken to mean that George Yeo, who retired from politics after being ousted from Parliament when he lost Aljunied GRC to the Workers' Party in 2011, is returning to politics and will contest Aljunied GRC in the next General Election.
Hundreds of netizens believed that this was what Goh Chok Tong meant and welcomed George Yeo back into politics. These netizens, however, were misled.
What ESM Goh probably meant through his carefully and cleverly-worded post is that George Yeo is "back with the Aljunied team" for just one event, when he met with PAP members who are now contesting the ward, at the Lunar New Year Reception.
George Yeo appears to have been seated at the same table as the Aljunied grassroots team at the event. Indeed, Victor Lye Thiam Fatt – the PAP candidate who contested Aljunied GRC in 2015 and lost to the Workers' Party – shared pictures of himself with Yeo at the same event and wrote:
"With old friend and former Foreign Minister George Yeo at the Istana Lunar New Year reception hosted by Prime Minister Lee Hsien Loong this Thursday night. Great (and rare) to have the Aljunied-Hougang clan together, though missing a few more members!"
George Yeo confirmed with the Chinese daily that he is not returning to politics and said that he was "just attending the dinner and gathering with the Aljunied team."
When the daily asked Yeo about ESM Goh's Facebook post, he "denied returning to politics and said that he had attended this year's dinner because he had time to catch up."
On why he made an appearance at this year's dinner when he has been absent at the annual dinner in previous years, Yeo responded: "This is my first time to attend this dinner because it was held earlier this year. Tomorrow, I will fly to Hong Kong."
So was ESM Goh's Facebook post simply misread by the majority of netizens? Or did he deliberately mean to tease the people? The Chinese daily implied that ESM Goh may have meant to tease the people. It reported that Goh "knows how to tease people with words."
In the same post where he announced that George Yeo is back with the Aljunied team, ESM Goh described his busy day and asked how he can retire. He wrote: "I had a busy day. From a Roxy Foundation event in the morning to SG Cares Community Network sharing session at Wisma Geylang Serai in the afternoon to PM's Chap Goh Mei dinner in the evening where I met George Yeo. How to retire?"
Highlighting ESM Goh's note that he is too busy to retire, the Chinese daily pointed out that: "There have been rumors that the 78-year-old Goh Chok Tong may have to retreat and not participate in the general election."
The daily added that it is unclear whether ESM Goh will lead Marine Parade GRC in the next election or whether he will be lifted out of the constituency. It wrote: "What will be a matter of some curiosity is whether in the coming general election, will Goh still hold the base camp of the Marine Parade?"Follow us on Social Media
Send in your scoops to news@theindependent.sg