What could have driven these two Singaporeans to smuggle bak kwa from Malaysia to Singapore, who unfortunately were stopped by the Immigration and Checkpoints Authority (ICA) at Woodlands Checkpoint?
In two separate cases, ICA officers intercepted bak kwa or barbecued pork hidden inside packets of durian-flavoured biscuits meant to be smuggled into the island at the arrival bus hall.
In a Facebook post of ICA, it stated: "Officers noticed packets of layered stacks resembling 'bak kwa' in the scanned images of the 39-year-old female and 29-year-old male Singaporean's hand-carried bags. Upon opening the packets of biscuits, slices of 'bak kwa' were found."
ICA warned the public about bringing this in, it said: "Thinking of bringing this 'bak' for Lunar New Year? Think again!"
The cases were referred to Agri-Food & Veterinary Authority of Singapore (AVA) for further investigation, according to ICA.
"Food products brought into Singapore must meet AVA's guidelines and must be from approved sources.
"Travellers are not allowed to bring in meat and meat products from Malaysia into Singapore."
With ICA just doing their work, they maintained that the borders are the first line of defence in safeguarding Singapore's security.
"The ICA will continue to conduct security checks on passengers and vehicles to prevent the illegal importation of undesirable goods," ICA posted.
AVA, a statutory board under the Ministry of National Development, regulates food safety, safeguards animal and plant health, and facilitates the agri-food and fisheries trade sectors.
The agency's website www.ava.gov.sg has a general rule for travellers bringing food into Singapore. It states that "travellers returning to Singapore can carry food products for personal consumption without first obtaining an import permit if: the type of food product is allowed; the amount is within the allowance; the source country is approved by AVA; and the food products will not be sold commercially."
"Travellers must be aware of the risks associated with consuming those food items."
A maximum of 5 kg of meat products for each person is allowed, provided that it was directly from approved sources.
Based on the table provided by AVA, Malaysia is not one of the countries as approved sources.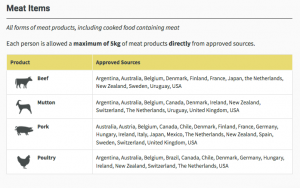 Source: AVA
According to the Wholesome Meat and Fish Act (Chapter 349a), the maximum penalty for importing meat products from unapproved sources is $50,000 and/or imprisonment of up to two years. In the case of a second or subsequent conviction, the offender is liable to a maximum fine of $100,000 and/or imprisonment of up to three years.
ICA officers have been catching smugglers trying to bring in prohibited food and products to the city-state. In February last year, two people were also caught smuggling bak kwa concealed in pastry or cookie packaging in Woodlands Checkpoint.
Other smuggled products coming from Malaysia, Indonesia, and other countries apprehended by ICA include duty-unpaid cigarettes, tobacco, and poultry produce. Others also attempted to smuggle live dogs and cats.
Netizens' perspectives on this news got "meaty" and "jerky" for there were some speculations as to why Singaporeans tried to smuggle bak kwa from Malaysia, when one can buy bak kwa in Singapore. The taste and the price came out to be the online public's answers.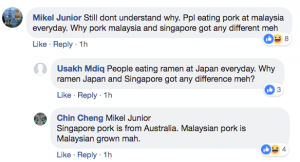 Unfortunately, there were still who did not know about the prohibitions.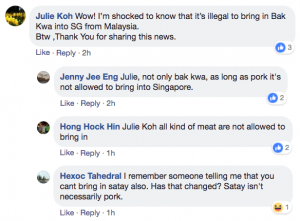 But this one online user turned out to be very specific in what might be brought in.

Follow us on Social Media
Send in your scoops to news@theindependent.sg