A video circulating on social media showing an elderly man apparently throwing food leftovers out a window sparked outrage.
The video, posted on popular social media page All Singapore Stuff on Friday, November 8, created a stir amongst netizens.
In the video, a shirtless elderly man is seen shaking what resembled a dinner plate out of the window. The man is also seen using a piece of tissue or a cloth to wipe the supposed plate, pushing its contents out the ledge.
Many netizens who commented on the post said the man was very inconsiderate as neighbours had hung their laundry out to dry below, and any falling food – or dirt – would soil their clothes.
Others also said that the issue should be reported to the town council.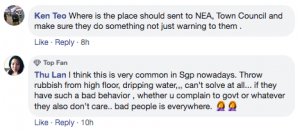 In her own ward, Nee Soon GRC Member of Parliament (MP) Lee Bee Wah, faced the issue of high-rise littering of sanitary pads.
Dr Lee said despite the presence of surveillance cameras there were used sanitary pads thrown from high-rise flats in her constituency.
This is not the first time Dr Lee expressed concern over this issue. In 2015, she told the New Paper: "I have seen soiled sanitary pads on the roof of covered walkways and on the floor. People just throw them from their units. It's just disgusting."
In Parliament, Dr Lee said that the culprits would only be caught if the National Environment Agency (NEA) has the "(proper targets) and the ambition to catch the culprit". She warned that otherwise, "it looks like this problem would only disappear when the litterbug menopause [sic]".
Dr Lee then offered the possibility of DNA testing being used to identify the culprits who toss their used sanitary pads from their high-rise homes because of the rampant problem. /TISG
Send in your scoops to news@theindependent.sg