Japanese researchers are pushing the boundaries of science by creating a robotic tail that extends innate bodily functions—a solution to keep the elderly mobile and productive as the country deals with an ageing population and a decreasing workforce.
While robotic tails may seem like science fiction, in Japan, they are a reality. A research team at Japan's Keio University have built an artificial biomimicry-inspired anthropomorphic tail, which they call Arque, that could help unsteady elderly people keep their balance and find a new level of productivity in their later years.
Arque is a grey, one-metre long robotic tail that allows humans to alter body momentum for assistive and haptic feedback applications. It mimics animal tails, like those of cheetahs and other animals whose tails allow them to keep their balance while climbing and running.
"The tail keeps balance like a pendulum," said Junichi Nabeshima, a graduate student and researcher at the university's Embodied Media Project who displayed the robotic tail, which was attached with a harness to his waist.

"When a human tilts their body one way, the tail moves in the opposite direction." said the Keio team.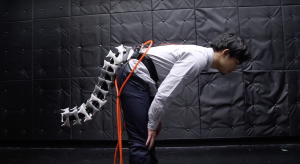 Most mammals and vertebrate animals rely on their tails to providing variant functions to expand their mobility, and they even use them as a limb that allows manipulation and gripping.
Arque has adjacent joints with a spring-based structure, which handles shearing and tangential forces and allows managing the length and weight of the target tail.
Four pneumatic artificial muscles power the internal structure of the tail, providing the actuation mechanism for the tail tip.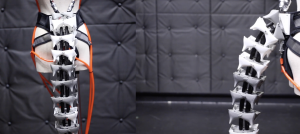 This prosthetic tail is being introduced as an extension of the human body to actively assist in situations requiring balance or alter body momentum as needed.
Japan is currently facing the same issue as Singapore—having a predominantly aging population and a shrinking workforce.
While other nations have relied on foreign, immigrant workers to make up the lack of younger local workers, Japan is focusing on finding technological solutions to better the lives of their existing elderly citizens and maximise their productivity.
Nabeshima said that the robotic tail still needs more time in laboratory, for further testing and development to make it more flexible. Currently, it uses four artificial muscles and compressed air to move in eight directions.
Besides being an extra, helpful appendage for the elderly who need assistance with mobility and balance, the Keio team is exploring industrial applications for the robotic tail.
One area where it could be utilised is to help provide balance to warehouse workers as they carry heavy loads. Nabeshima noted that the team is also looking into ways the tail could be of further use in daily living. -/TISG
Send in your scoops to news@theindependent.sg