On September 14, Friday morning, a netizen went on popular Facebook page All Singapore Stuff to alert people about a listing blatantly advertising domestic helpers from Indonesia on the online marketplace Carousell. The user, @maid.recruitment, had posted full face photos of the women and had even marked some of the helpers as "sold". After the listing was reported, the Ministry of Manpower got involved to investigate.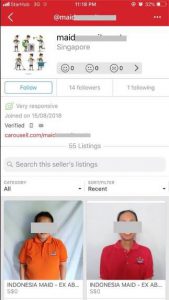 Carousell, a Singapore-owned online marketplace, features buying and selling of various items. Clothes, shoes, and electronic devices are the goods typically being auctioned off on Carousell, but unusual and humorous things pop up from time to time.
There was nothing humorous about what Netizen Michael S. discovered on Carousell. Singapore user @maid.recruitment's listing featured domestic workers from Indonesia, complete with clear photos of their faces and personal descriptions. Some of the listings of the workers were even marked as "sold". The listing, which has sparked an inquiry by Singapore's Ministry of Manpower (MOM), has since been removed by Carousell.
Carousell, which has been cooperating and assisting the MOM in its investigations, clarified that no actual "sale" happened and if it did happen, it would be removed from the platform immediately.
A Carousell representative confirmed that "Any display or sharing of individuals' personal biodata is strictly prohibited, as this violates our guidelines."
The MOM issued a strict statement on Facebook on the evening of September 14, saying that they are "aware of cases where foreign domestic workers (FDWs) are being marketed inappropriately on the online buying and selling site, Carousell. We are investigating these cases, and have arranged for these listings to be taken down."
https://www.facebook.com/sgministryofmanpower/posts/1861114963937762?_rdc=1&_rdr
The MOM continued to say that "advertising Foreign Domestic Workers (FDWs) like commodities is absolutely unacceptable and a legal offense under Section 11(1)(c) of the Employment Agencies Act," which states that an employment agency (EA) should not act "in a manner likely to be detrimental to the interests of the clients of the licensee."
Licenses of violating EAs will be suspended or revoked, and it is an offense to carry on with business without a valid license. There are also fines up to $80,000 and possible jail time up to 2 years. Even those who avail of the services of an EA without a license can also be fined up to $5,000.
The MOM urged EAs to act responsibly and review the guidelines they issued on responsible advertising practices for EAs.
In turn, the MOM advised the public to contract the services of only MOM-licensed EAs and shared with everyone the online EA Directory (http://www.mom.gov.sg/eadirectory), which shows the agencies that are legally aboveboard.
One of the more pressing issues here, besides the legal aspect of it, is the questionable ethics behind the manner in which people were being "advertised." It feels very much like modern-day slavery, where, with people's personal biodata and pictures on display, interested employers can "obtain" helpers.
A Facebook user agreed that the issue was akin to "slavery":

One chided Carousell for "selling" humans when even pets are not allowed to be sold:

A netizen alluded to another questionable "service" that can commonly found in Asia, (the Asian "mail-order bride service"):

And one sarcastic commenter likened it all to how girls today "advertise" themselves on Instagram:

This controversy ties in with the recent discussions about proper treatment and reimbursement of Foreign Domestic Workers in Singapore so that Singapore does not experience a "care drain", and of FDWs having more public spaces in which they can relax and get-together on their 1 day per week off without disturbing others.
Follow us on Social Media
Send in your scoops to news@theindependent.sg