Go-Jek is just about to enter Singapore's ride hailing market, and Grab is shoring up on incentives to keep drivers loyal, since Go Jek, is apparently presenting some very attractive incentives of its own.
A post in a Facebook group for taxi drivers said that Go-Jek is reportedly offering new drivers incentives such as S$1,800 for 150 trips made in a week, or S$1,300 for 120 trips. Furthermore, drivers' Acceptance Rates (AR) and Cancellation Rates (CR) will be disregarded.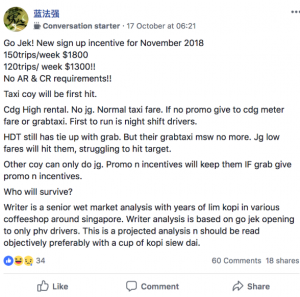 Rumors abound that many private hire drivers are eager to jump ship and sign up with Go-Jek. A media source has reported that around 90 drivers are eager to join the company. One driver, a woman named Lin, said, "Recently I realised a lot of Grab drivers are unhappy with Grab, hence we are entertaining the idea of jumping ship."
Another drivers' group on Facebook, Singapore Private Hire Car Drivers & Riders Community, ran a poll asking drivers if they would stay loyal to Grab, or transfer to Go-Jek. Of the 1200 who voted, only 14 percent indicated they would stay with Grab. 86 percent seem ready to transfer to Go-Jek.
However, Go-Jek has neither confirmed nor denied the amounts involved in incentives they offer.
Grab drivers have been complaining ever since the merger with Uber that their incentives have gotten very small, compared to when they first began with the company.
Grab does not seem to be taking this sitting down, offering a new incentive scheme for drivers starting from October 29.  Drivers who reach a specific target will be receiving cash bonuses.
Grab now has a rewards program, the Emerald Circle, wherein drivers are given dental and medical benefits, discounts on fuel, etc. Drivers are automatically enrolled in the Emerald tier at the beginning, and then make their way up to the Ruby, Sapphire, and Diamond levels as they gain Experience Points (XP) when they give commissions to Grab.
At Emerald level, drivers earn S$2,400 if they can make 50 trips each week, and S$6,888 if they hit 140 trips each week. At the highest level, Diamond, drivers with 75 trips a week get a a gross amount of S$4,500. Should they reach 180 trips a week, they get S$11,888.
Drivers have had mixed reactions to the Emerald Circle, with some confident that it will benefit drivers, while others doubt that reaching targets is possible.
Others have argued that Grab sets these high targets in order to keep their drivers fully occupied so they cannot work for other companies like Go-Jek. This would seem like a loophole to the order from the Competition and Consumer Commission of Singapore's (CCCS), removing Grab's exclusivity conditions with their drivers, which disallows them from working for other companies.
However, Lim Kell Jay, the Head of Grab Singapore, said that the incentive is actually Grab's attempt to answer the complaints of drivers concerning insufficient incentives in the past. But whether or not the new incentives will prevent Grab drivers from jumping ship to Go-Jek is still unknown.
Follow us on Social Media
Send in your scoops to news@theindependent.sg