The Online Citizen (TOC) is seeking financial support in order to keep its website afloat. Revealing that the company has just over S$960 in its bank account, the website said that it faces a "constant attempt by the mainstream media and authorities to discredit" it and that it "can't work miracles" if they do not get financial support.
In an appeal to readers published on the TOC Facebook page, the publication pointed out that it is being targeted by the authorities and other groups and that this makes running the website an "uphill battle" especially given the website's finances. TOC said:
"As you are well aware, The Online Citizen (TOC) has been in the government's crosshairs lately, with the government intensifying its attack, ceaselessly firing at us with legal suits along with numerous allegations thrown at us and "legitimate questions" targeted at our staff.

"Not forgetting, the constant attempt by the mainstream media and authorities to discredit us and simply paint a dark picture to our effort on shedding light on the truth.

"But, that is just the tip of the iceberg, for even as you are reading this now, there are many out there who seek to divide us; the PAP-pet spin masters and Internet brigades who embrace the politics of anything goes.

Despite our continued effort and unwavering stance, it is an uphill battle especially if you look at where we stand financially (as shown in the image below). Imagine millions, if not billions, worth of political and media machinery collectively bombarding a publication that has less than a thousand worth of funding in the bank."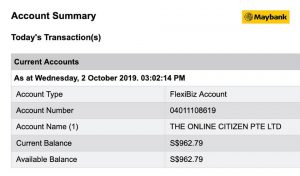 Asking for a "helping hand to keep TOC afloat and remain operational in the long run," especially as the General Election nears, TOC said: "We can't work miracles if we don't get financial support prior to the election as we need to prepare both on labour and equipment wise to be able to expand our reach and properly cover more grounds (est. budget of S$40,000)."
TOC is seeking donations for its election coverage and to run its Chinese and English websites. It noted that it started a Malay website but had to cease operations due to a lack of funds.
While TOC is not offering exclusive content for subscribers, it is asking readers to continue signing up as subscribers for S$6 a month or give a monthly donation via Patreon. Individuals can also make donations to TOC's bank account or donate directly through the website. The publication promised to arrange screenings of the documentary 'An Online Citizen' for subscribers.
Recently, three government ministries accused TOC of publishing falsehoods. Editor Terry Xu is also facing a lawsuit brought on by Prime Minister Lee Hsien Loong over an allegedly defamatory article and Facebook post. TOC has said that the donations will not go towards the defamation lawsuit editor Terry Xu is facing.
TOC editor set to re-serve court documents to Lee Wei Ling and Lee Hsien Yang after previous failed attempt
Law Ministry and MCI accuse TOC of publishing falsehoods in yet another article
Health Ministry is the latest to accuse TOC editor of perpetuating falsehoods
Send in your scoops to news@theindependent.sg