The Online Citizen (TOC) editor Terry Xu has revealed his plans to re-serve court documents to Lee Wei Ling and Lee Hsien Yang after a previous attempt to do so was not completed in the proper manner as listed in the Rules of Court.
Mr Xu is facing a lawsuit brought on by Prime Minister Lee Hsien Loong for refusing to remove an article and Facebook post that allegedly defamed him.
Late last month, Mr Xu filed a Third Party notice against Dr Lee Wei Ling and Mr Lee Hsien Yang and called on the PM's younger siblings to testify in court as third parties since the contentious article and Facebook post repeat allegations made by Dr Lee Wei Ling in 2017.
Mr Xu, who is representing himself in the case, said that he wants the Prime Minister's siblings to bear the damages if he is found to have defamed PM Lee. He added that he "reserves the right" to cross-examine Dr Lee Wei Ling and Mr Lee Hsien Yang in court.
In a Facebook post published today, Mr Xu revealed that after he filed the Third Party Notice against the younger Lee siblings on 26 Sept, he emailed Mr Lee Hsien Yang and hand-delivered a copy of the notice and relevant court documents to Dr Lee Wei Ling's residence.
Yesterday (7 Oct), both siblings reportedly notified Mr Xu that they have been advised that the notice was not properly served to them under the Rules of Court. Mr Xu updated that he will "attempt to send the notice to the two again in a proper manner this time."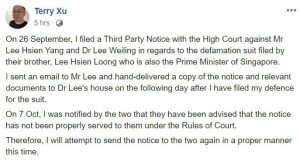 Mr Xu is arguing that the article and Facebook post that allegedly defamed PM Lee was meant to be ironic and meant no malice. He added that the article merely repeated comments made by Mr Lee and Dr Lee between 14 June 2017 to 15 Aug 2019.
As to why he wants to bring in PM Lee's siblings as third parties, Mr Xu said: "Other particulars relating to the truth of the allegation lie within the knowledge of LWL and LHY, and the Defendant reserves the right to cross-exam LWL and LHY to provide more information."
The Prime Minister's press secretary, Chang Li Lin, said on 10 Sept that PM Lee will testify in court if the case goes to trial. She added: "His siblings can decide, together with Mr Xu, whether they too will testify and repeat the allegations in court. The court can then establish the facts."
PM Lee's lawyers have said that the TOC article were "false and baseless" and that PM Lee "has been gravely injured in his character and reputation, and has been brought into public scandal, odium and contempt" due to the misleading article and Facebook post.
The Prime Minister is claiming damages, an injunction to restrain Mr Xu from publishing or disseminating the allegations, and costs. A pre-trial conference is scheduled to take place next week, on 15 October at 9.30am.
TOC editor wants Lee Wei Ling and Lee Hsien Yang to bear the damages if he is found to have defamed PM Lee