Nuseir Yassin, known to the Internet as Nas Daily, vlogger famous for his daily 1-minute videos on anything and everything, has a soft spot for Singapore and has already hung out with Foreign Affairs Minister Vivian Balakrishnan.
In one of his most recent videos, Nuseir applauded the Singaporean passport, calling it  "the world's strongest passport". Minister Vivian got wind of the video and reposted it on Facebook, thanking Nuseir for the "shout-out" and inviting him to "drop him a line".
https://www.facebook.com/Vivian.Balakrishnan.Sg/posts/10155415184671207?__xts__[0]=68.ARCCVagOotweaElWo-ha8SDppeuVV1CpSEWLJ-4w_xKR6JfhRhxwBxI1EVpDR9N3wukINRKRUrvcWQMNEQOO4C2hknA52eJV1NHoOe7g244WGZ3keTCwXyo70EjXNY_PJ96ItioJq96qxyEJXZcwr10Or1BKMHstm0jIWHH2Wb6jah-ozNPsriI&__tn__=-R
From there, the two arranged a meet-up, and this was the resulting 'wefie', which Nuseir originally posted on his Instagram account: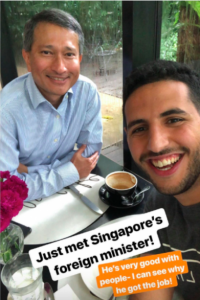 The photo is no longer on Nuseir's Instagram, as of 3:30PM, September 7, but a screenshot of the photo was posted by user @frhn on Twitter.
We do not know what two talked about, but we know that Nuseir had this to say about Minister Vivian–"He's very good with people – I can see why he got the job!"
Besides being a fan of Minister Vivian, Nuseir is clearly enthralled by Singapore. He recently visited the country and drew a crowd of more than 700 outside the Singapore Indoor Stadium on August 22. He posted a video citing Singapore's Changi Airport as "the world's best airport", another video expressing his awe of how Singapore is so clean, and yet another video titled "Why I Hate Singapore!", where he said that he is jealous of this amazing country for its drinkable tap water (the only one in Southeast Asia), religious and ethnic tolerance, and world class facilities.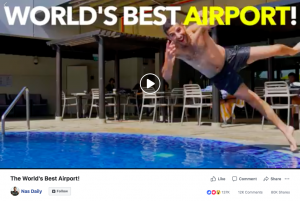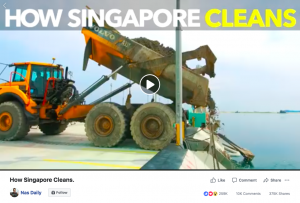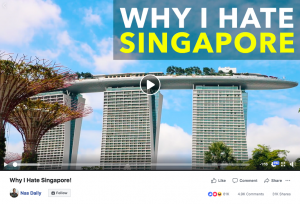 The video that got the attention of Minister Vivian, however, was the one Nuseir made about the Singaporean passport. Nuseir was full of praises for the passport, which in May of 2018 was ranked the world's second most powerful passport, after Japan. Singapore passport holders can travel visa-free to a total of 188 countries (tied with Germany), just 1 under Japan's 189. That is amazing news for citizens of this tiny country, and Nuseir could not hide his admiration for how Singapore does it.
"And this is why Singapore is doing it right. They don't try to fight, invade or take over other countries."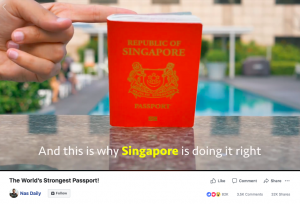 "All they want is to be friends with everyone around them and make life better for their citizens."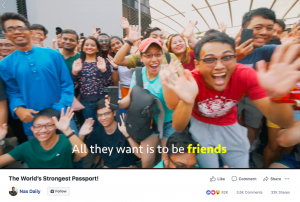 "As other countries fight each other, let's look at Singapore, because they are the ones with real power!"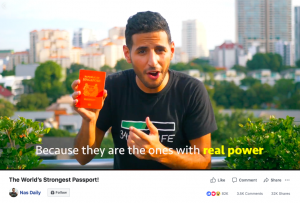 Nuseir has certainly been enjoying his time in Singapore, saying in a Facebook post, "I'm really liking it here and I'm mentally recovering."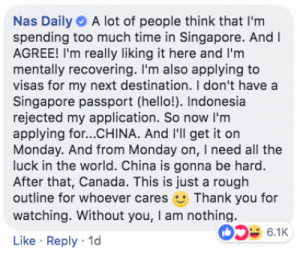 Follow us on Social Media
Send in your scoops to news@theindependent.sg