Hong Kong station TVB called off its 'live' broadcast of its anniversary celebration for the first time in its 52 year history in light of safety concerns due to protests in the island state.
News reports say a recording of what was meant to be the final rehearsal replaced the 'live' telecast.
The broadcaster issued a statement after the last-minute cancellation of the show stating that the change of programming was due to protests taking place in several districts.
TVB apologised for cancelling the 'live' telecast.
Multiple roadblocks and damaged lights in the Tseung Kwan led to unpredictable traffic conditions as well as consideration for the safety of guests.
TVB said the anniversary will air at night at 8.30 as scheduled.
It is reported the producers called the artists who are involved in the show back to the studio to record the show in secrecy.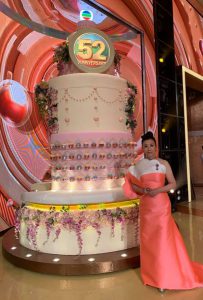 The media invited for coverage were also given last-minute cancellation notices.
A reporter at TVB City found that there were no crowds and the venue did not have an air of festivities, with deserted studios and the anniversary cake left on stage.
TVB which stands for Television Broadcasts Limited is a Hong Kong-based television broadcasting company.
It operates five free-to-air terrestrial television channels in Hong Kong with TVB Jade as its main Cantonese language service and TVB Pearl as its main English service.
The company is headquartered at TVB City at the Tseung Kwan O Industrial Estate.
TVB started operations on November 19 1967.
Co-founded by Sir Run Run Shaw (chairman from 1980 to 2011) together with Sir Douglas Clague and Harold Lee Hsiao-wo of the Lee Hysan family, TVB was known and promoted as Wireless Television in Chinese to differentiate it from the then cable TV broadcaster Rediffusion Television which later became ATV.