It's the beginning of a new year, and most people like to set resolutions or make life changes for the coming year. Engaging in major spring cleaning is a favourite activity of those who want to downsize and start the year with a clean home. But where does the rubbish go? On Thursday, January 10, Singaporean blogger mrbrown posted a shocking photo on Facebook of, well, an unsightly pile of rubbish, which his mother spotted at the Lorong Ah Soo void deck.
The mess of rubbish was a collection of boxes, toys, poles, random items and even a skateboard! The blogger's mother was dismayed at the disorderly pile of unwanted items scattered all over the void deck rubbish bin at Block 128 in Lorong Ah Soo.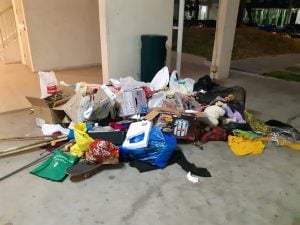 Here's what his post read:
Seen by mom at Blk 128, Lorong Ah Soo: "These people are very irresponsible! They just dump their rubbish downstairs so that they can have a clean house! They have a very poor sense of responsibility. I wish I can put back all this rubbish into their house. I feel sorry for the cleaner."

Mom is right. Please lah, want to CNY spring-cleaning also not like this, right?
You can check out his Facebook post here:
https://www.facebook.com/mrbrownlah/photos/a.533775036672385/1962196483830226/?type=3&theater
The question is – what happened here? Did overeager spring cleaners lose sight of the bigger picture and succumb to the irony of cleaning their homes but then just dumping the mess elsewhere in with an "out of sight, out of mind" mindset?
Some netizens seemed to think so.
While it can be acknowledged that the things might not fit properly in the rubbish chutes or bins, I think we can all agree that they could have at least been arranged in a more orderly fashion around the bins.
But let's not blame the spring cleaners too quickly. Could it be the handiwork of scrap hunters and rubbish ransackers?
Other commenters say the ransackers were responsible:



This netizen suggested a common sense way to solve the mystery:


At the end of the day, there is nothing wrong with cleaning house. But if cleaning house means just transferring the rubbish elsewhere, good intentions might have gotten lost along the way.
There are different things one can do with old items. Think about the three R's – reuse, repurpose or recycle.
To clear up any confusion on what can actually be recycled, we've posted a helpful video from another media source below:
https://www.facebook.com/MothershipSG/videos/491454827927862/
Remember, less is more, but to do more for the environment, we should think about purchasing and using less.Follow us on Social Media
Send in your scoops to news@theindependent.sg