Apple fanatics rejoice—if you live and work in Singapore, it takes less than ten and a half days to afford the newest iPhone. A study by aggregator website Picodi shows how affordable Apple's newest phone is depending on the country where you live.
The verdict: people in developed western countries, the UAE, Japan and Saudi Arabia have to work the fewest number of days in order to buy the 64GB iPhone XS, which is among the most expensive of the new models, costing S$1,649 (US$1,209).
Last on Picodi's list are Filipinos, who have to work 156.6 days to afford an iPhone XS with the same specifications.
Singapore is 13th on Picodi's list of more than 40 countries, tied with Austria, and one step ahead of Germany, where people have to work for 10.5 days to be able to afford an iPhone XS. Japan is the only other Asian country ahead of Singapore (8.8 days). In Hong Kong people have to work an average of 11.5 days, in Malaysia it's 41.3 days, and in China it's 50.5 days.
At the top of the list is Switzerland, where folks only need to work for 5.1 days for the phone. Citizens of Luxembourg come next (6.9 days), followed by Norway (7.5 days), and then the United Arab Emirates (7.6 days). Denmark rounds out the top five, where citizens have to work for 7.7 days for the iPhone XS.
In the US, people have to work for 8.8 days to afford it.
The number of days Singaporeans have to work for an iPhone XS is based on the average gross salary in Singapore, S$4,232 a month, a figure provided by the Ministry of Manpower.
Picodi made the chart based on the publicly posted prices of the Phone XS 64 GB in 42 different countries combines with data concerning average wages in the countries involved for last year, 2017.
Here is Picodi's chart in full.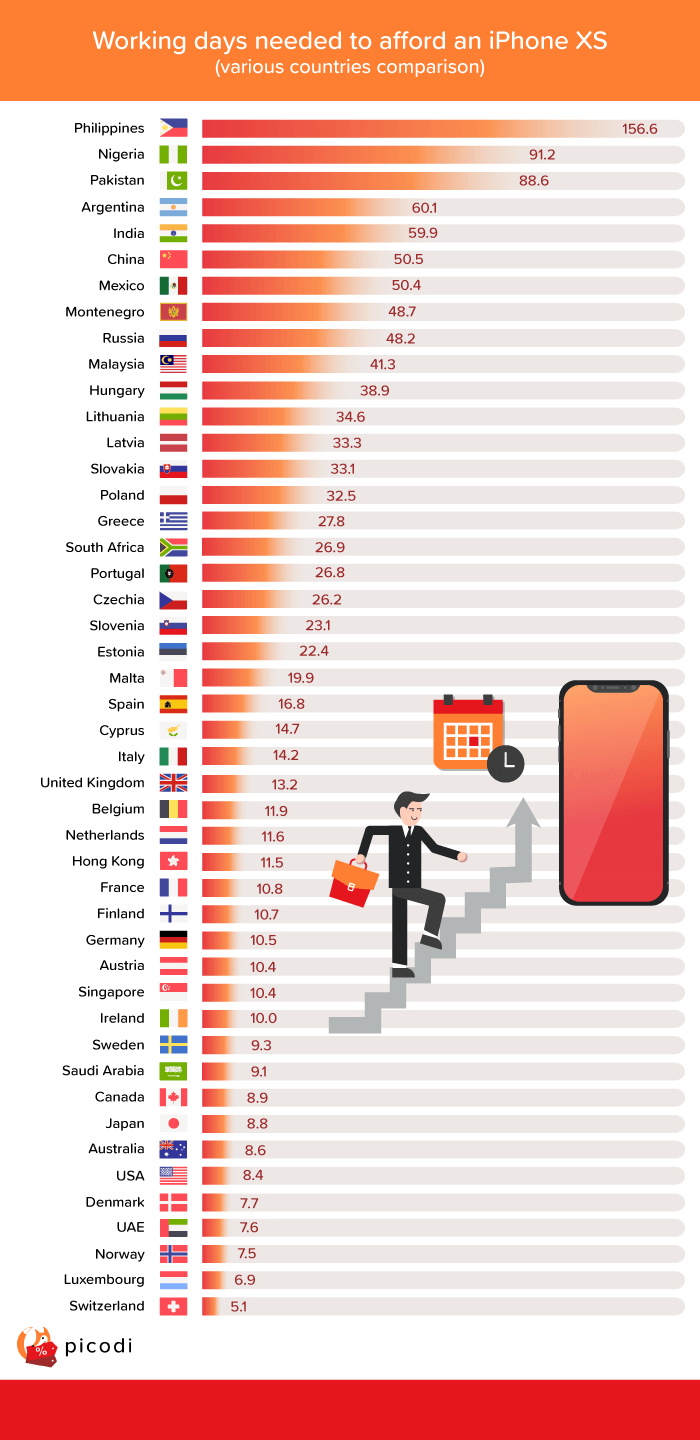 Follow us on Social Media
Send in your scoops to news@theindependent.sg