SP Group, the giant energy provider of Singapore, has rolled out 38 electric vehicle (EV) charging points in different 19 locations around the island as part of its first wave of public charging points.
The locations are equipped with nineteen 50kW direct current (DC) charging points as well as nineteen 43kW alternating current (AC) charging points.
In the convenience of EV drivers, DC charger can fully charge a car in 30 minutes, while an AC point takes up to an hour.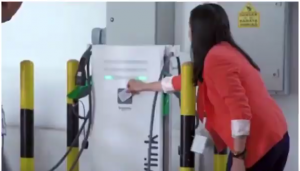 Photo: Screengrab from YouTube
In a press release, the company said: "SP's new additions will be a game-changer in improving the charging turnaround time for EV drivers in Singapore."
The new charging points are near amenities such as food centres, making it convenient for drivers who are waiting for their vehicles to be charged, according to SP Group.
They are also located at commercial buildings, industrial sites and educational institutions islandwide, like that of at Alexandra Technopark, Hyflux Innovation Centre, Techlink and Corporation Place.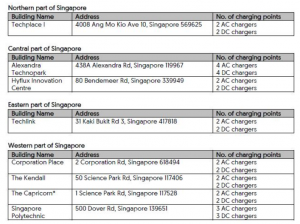 Charging cost will be based on the prevailing electricity costs. Regular adjustments will be expected by consumers.
"EV drivers can also enjoy at least 50 percent cost savings compared to typical Internal Combustion Engine (ICE) vehicles for every kilometre travelled. The cost of using SP charging points will be regularly adjusted, mainly influenced by the prevailing electricity costs in Singapore."
Searching for the nearest available charging points, get updates on their charging sessions and make payments would not be a problem, as EV drivers can do this through the mobile app, SP Utilities.
In October last year, SP Group has announced to build 1,000 charging points, including 250 DC points by the year 2020, aiming to be the largest public EV charging in Singapore.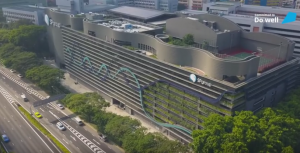 Photo: Screengrab from YouTube
Mr. Wong Kim Yin, group chief executive officer of SP Group, said: "Our nation-wide public charging network offers EV drivers fast charging, with greater convenience and a seamless experience through our digital solution, at cost-competitive rates. This will encourage wider adoption of green mobility in Singapore, and enable drivers to save cost,"
The Singapore Polytechnic charging point will also serve as an education and research platform for students taking up engineering program.
As of end-November last year, Land Transport Authority has recorded 357 petrol-electric plug-in cars, 466 pure electric ones. Also, there are 102 registered pure electric taxis running around the island.
Statistics have risen up compared to 2017 when there were 206 petrol-electric plug-in cars and 314 pure electric cars only.
For the moment SP Group will compete with an edge with the existing EV charge network, Greenlots, which currently has 55 public charging stations at 39 locations, all AC chargers with a maximum 7.3kW charge rate but no DC chargers.
Other charge networks, however, are not opened to the public or are available for customers only.
BlueSG, the EV car-sharing service, has more than 531 charging stations at 135 locations but are currently not open to the public. Offering it to the public will be in the first quarter of 2019.
Hyundai distributor Komoco Motors on Alexandra Road has a charger exclusive for their customers only.
The news caught the attention of some netizens, who are into cars, as they have posted their opinions regarding battery life.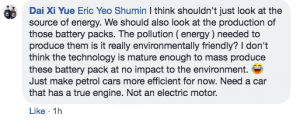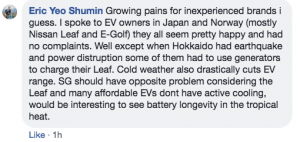 Photo: Screengrab from Facebook
One netizen has even pointed out his future nostalgia to the fate of engine-powered cars:

Photo: Screengrab from Facebook
But another online user began to echo some politics underneath this.

Photo: Screengrab from Facebook
Follow us on Social Media
Send in your scoops to news@theindependent.sg