The Japanese, known for keeping their traditions close while embracing modernity, have also become synonymous with discipline, respect and resilience. Singaporean professional photographer Bryan Foong beautifully captured the essence of the Japanese spirit while on a business trip to Hokkaido, which survived two natural disasters in the span of one week.
Foong, who experienced firsthand the 6.7 magnitude earthquake while he was in Sapporo on a wedding assignment, was deeply affected by "the resilience of Japan after 2 major natural disasters within the week, their amazing speed of recovery to bring back electricity, readiness to help to all those affected by the deadly earthquake and most importantly their calmness, patience and civic mindedness."
In a moving story that he posted on Facebook, Foong said that he wished "to share with everyone not the destructions of disaster which the mainstream news reported, but the calm after the storm and greatness of humanity."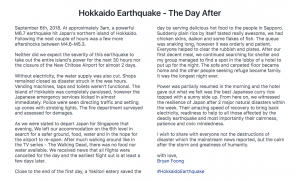 Typhoon Jebi, the most powerful storm to ravage Japan in 25 years, made landfall on September 4 in western Japan. With wind speeds of up to 252 kilometers per hour, the typhoon killed at least 10 and stranded 3,000 people in the flooded Kansai Airport. Two days later, as if nature had not done enough, an earthquake with a magnitude of 6.7 hit Hokkaido Island just after 2 in the morning, with aftershocks measuring 4.6-5.3 occurring a few hours after.
Typhoon Jebi wreaked havoc on the roads: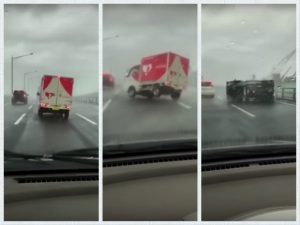 The 6.7 magnitude earthquake devastated Hokkaido Island: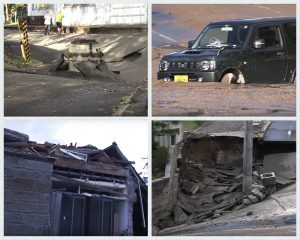 According to Foong, Hokkaido Island had a post-apocalyptic feel to it, not unlike the popular US show "The Walking Dead". It was eerily quiet, there was no water, all shops closed down, and there was no electricity for the next 30 hours after the earthquake. Flights were cancelled as New Chitose Airport was shut down for nearly two days. If not for the amazing efforts and quick response of the Japanese emergency services, police and fire department, the whole island would have come to a complete halt.
Post-earthquake:
Deserted streets:
Closed shops:
It was at that point that Foong saw Japanese solidarity and resilience in action. Yakitori eatery served much-needed hot food to people, and though lines were long and people were hungry, the Japanese formed a patient queue, showing courtesy even in the face of disaster. Grateful for the food, everyone pitched in to help with the cleaning afterwards.
People banded together and sought refuge in the lobby of a hotel, bunkering down for what was an extremely long and anxious night. Foong reported that the next morning, power was back on in some parts, and it did not take long before things started to get better.
Taking turns at charging stations, which were set-up by Tokyu Hands:
Tokyu Hands providing food supplies for people:
Forming orderly queues and waiting their turn:
While shopping for food and supplies, people took only what they needed and made sure to leave for others:
BIC Camera stayed open to sell people the necessities – batteries and chargers:
Policemen hard at work to keep pedestrians safe:
In a conversation with The Independent, Foong relayed three amazing things that stood out to him the most –
"Everyone stayed calm and quiet."
"Everyone was very considerate to one another (cars stopped to let pedestrians cross the road as there were no traffic lights, local eateries cooked with gas and charcoal to provide hot food without raising prices, rationing to buy supplies so other have enough to go around, petrols limited to 10L per car, most people limited groceries to only a handful, and people shared their charging stations)."
"The swift recovery by emergency services. The police, ambulances and fire department showed up within minutes of the first earthquake. Cones and lights were set up very quickly all over the city to prepare for the first night in darkness."
When asked if he would like to say anything to his fellow Singaporeans or to people in general based on what he experienced, Foong thoughtfully and wisely said, "Sometimes we may be divided by our culture, race and political differences. But we must not forget that we bleed red warm blood. In tough times especially we need to stand together, be considerate and share. We may not be able to convince everyone to behave ideally especially during chaos and panics. But if it starts from you, you can start the ripple effect."
Foong was grateful for the opportunity to capture what he referred to as "the essence of the Japanese" through his photography. He remarked that he would love to be able to document the "amazing side of humanity" again but was firm in saying that he did not wish for any tragedy or disaster to occur just so he could do so.
You can view all of Foong's photos here.
Follow us on Social Media
Send in your scoops to news@theindependent.sg