Singapore rose to the third rank in AirVisual's live list of cities with the worst air quality in the world, as of Wednesday (18 Sept) evening, amid worsening haze. Singapore was not in the top 10 of AirVisual's ranking of major cities on Monday but reached the sixth spot on Tuesday morning. Hours later, Singapore climbed up to the third spot.
According to the World Air Quality index, the air quality in Singapore on Wednesday evening remained "unhealthy" with the Air Pollution Index (API) readings hovering at around 180.
API readings of 0 to 50 represent "good" air quality, while 51 to 100 is considered "moderate", 101-200 is classified as "unhealthy", 201-300 is "very unhealthy", and above 300 is deemed "hazardous".
This week, the National Environment Agency (NEA) announced that the Government is setting up a Haze Task Force (HTF) comprising 28 government agencies to enforce measures "for the protection of the health and well-being of the public".
Revealing that the HTF will meet annually in May, the NEA said in a statement that the task force will be in charge of issuing advisories for different population segments such as motorists and students.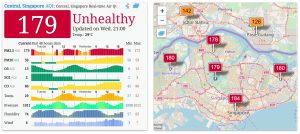 Indonesian Govt seals off palm oil plantations belonging to Singapore-based firm amid worsening haze
Send in your scoops to news@theindependent.sg