The chairman of Nissan Motor Co., Carlos Ghosn, has been in the news lately due to his arrest on charges of having under-declared his income. But it's not just Ghosn's face that has circulated around Twitter in Japan lately, but Mr. Bean's, due to the uncanny similarity in their appearance.
Mr. Bean started trending among Japanese Twitter users, garnering tens of thousands of mentions shortly after news broke that Ghosn was about to be arrested, with the hashtag #Mrビーン (#MrBīn) going viral.
Twitter user @azi_blueline joked in Japanese, "I thought, 'We'll soon learn the reason why Carlos Ghosn was arrested,' but upon closer inspection, it was Mr. Bean."
A former U.S. ambassador to and member of the Board of Directors of the Asian Development Bank, Curtis Chin, tweeted about Ghosn and Mr. Bean not once, not twice, but thrice on November 19
"#Going. #Ghosn. #Gone. Nissan Chair Carlos Ghosn gets the boot & is arrested for alleged fraud, & the Japanese cybersphere goes Crazy comparing him to #MrBean. @Nissan #Auto industry icon #CarlosGhosn is out of a job http://bloom.bg/2R0BePO  @TwitterJP #日産自動車 #ゴーン会長"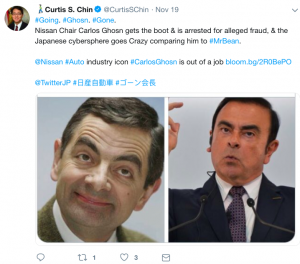 "I <3 Japan. Here's one crazy reason why: Mr. Bean is trending on Japanese Twitter because he "resembles" *#Nissan Motor Co. President Carlos Ghosn #カルロスゴーン, who is facing arrest on a charge of not reporting his full salary. ht @jljzen"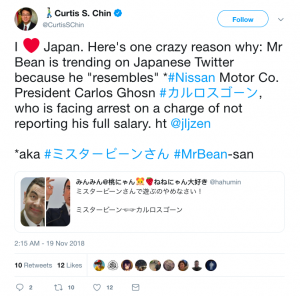 And then, For my Japan Tweeps, a #gif for you. "That was then.
This is now, and that Mr. Bean (I mean Carlos Ghosn) has gotten himself into some serious (stuff).
Developing story: #Nissan to oust Chairman #Ghosn for alleged fraud.
#ゴーン会長 #カルロスゴーン逮捕 #カルロスゴーン #ゴーン *aka #ミスタービーンさん #MrBean-san"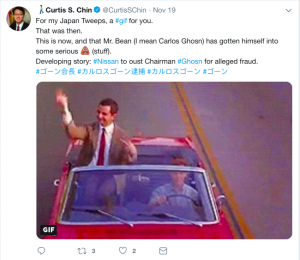 An internal investigation over the past few months concerning allegations of misconduct involving Representative Director Greg Kelly and Ghosn has been conducted by Nissan. It has shown "that over many years both Ghosn and Kelly have been reporting compensation amounts in the Tokyo Stock Exchange securities report that were less than the actual amount, in order to reduce the disclosed amount of Carlos Ghosn's compensation."
Furthermore, there has been proof of other acts of misconduct from Ghosn, which include the personal use of company assets, and Kelly has been linked to the matter as well.
Ghosn is one of the highest paid chairmen in Japan, and one of the few heads of a company who is a foreigner. He is credited for having turned the company around from near-bankruptcy. The firing of a high profile executive such as Ghosn is likely to affect the automobile industry.Follow us on Social Media
Send in your scoops to news@theindependent.sg