A single mother wrote and shared a lengthy social media post alleging that her 3-year old son was abused by a teacher at his preschool.
She wrote that every three to four days, her son would come home with bruises and scratches. She also alleged that there was a fingernail mark embedded into her son's year.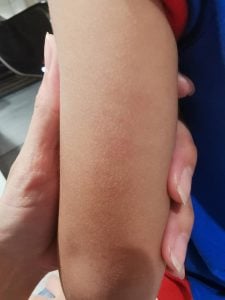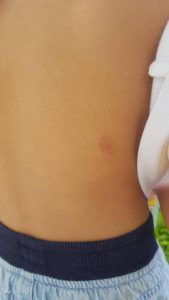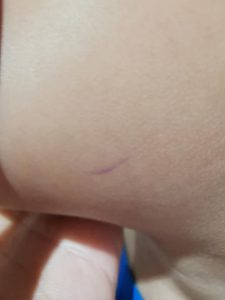 She wrote that her son attended Sunflower Preschool at Bedok Reservoir and was in the Nursery 1 class.
She wrote, "most recent is a bruise around the neck and has thick and deep traces. Within 1 week the mark is still not healed. The trace was like a rope and was pulled in the neck".
The woman said that her son came home with a thick bruise around his neck, that looked to be like he was strangled with rope or cord. When she asked the boy's teacher, she found out that he had two teachers, one male, and another who taught the children Mandarin.
While the teacher of the school tried to pass of the incident as an allergy, the woman said, " I took my son to the doctor and checked on the day of the incident. , The doctor gave the report that my child was not allergic, but if being pulled by something like a rope or causing a mark around the neck".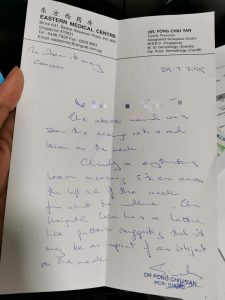 The doctor's report stated that the boy had a "red lesion" on his neck. The report also added that it had a "lattice like pattern suggesting that it may be an imprint of an object on the neck".
After contacting the Principal of the school, the woman wrote that the former checked the Closed-circuit television (CCTV) at the school and found out that it was the boy's Chinese teacher who abused him.
The mother then wrote that since August 2, until October, she had not heard back from the boy's school. Because of this, she made a police report, and according to the boy's mother, the school's principal told the police that the "CCTV that day was broken, CCTV that day (was) not ON".
The woman called for help and for justice, especially because she wrote that her son now feared going to school and spoke of being strangled by his teachers.
Her full post: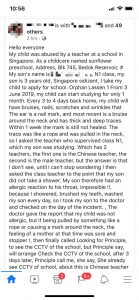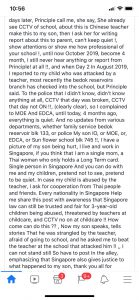 TISG has reached out to Sunflower Preschool at Bedok Reservoir as well as the boy's mother for comment and clarification on the incident. /TISG