Earlier last month, NTUC Enterprise and local food court operator Kopitiam announced that NTUC would acquire Kopitiam Investment and its subsidiaries by the end of the year. This deal would mean that NTUC Enterprise would take over the 80 outlets Kopitiam owns across Singapore, including the famous Lau Pa Sat Festival Market.
NTUC Enterprise announced that Kopitiam would retain its name, management teams, workers and even its loyalty programme and stored-value Kopitiam cards, and said that the deal means that the two entities will continue operating as separate but "work together to leverage mutual capabilities and seek out common opportunities for synergies, including the use of technologies".
Despite this assurance, the proposed takeover rang alarm bells for many Singaporeans who saw the move as part of NTUC's plans to monopolise the hawker industry.
Competition and Consumer Commission of Singapore (CCCS) subsequently invited the public to give feedback on whether the impending sale of Kopitiam to NTUC would infringe competition rules.
Meanwhile, renowned local food guru KF Seetoh has slammed NTUC over the proposed takeover. Indicating the the deal is a move by NTUC to monopolise and profiteer from the hawker industry, Seetoh urged the authorities to keep Kopitiam out of NTUC's control.
KF Seetoh is the founder of the long-running Makansutra food network which has produced heritage street food guides, international culinary tv shows and operated food markets over its 21-year history. Seetoh has also been lauded by international publications like the New York Times and CNN and was recognised as Singapore's Food Ambassador by former President SR Nathan.
Writing on Facebook, Seetoh made a dig at NTUC being a "cooperative," pointing to the high profits NTUC rakes in and noting that the labour movement-linked enterprise "now have more than enough profits to buy Kopitiam (not some small company mind you)."
Pointing out that NTUC already manages 14 food courts, 10 coffee shops and 9 hawker centres and that Kopitiam's 80 food courts will strengthen NTUC's hold over the hawker industry, Seetoh noted that the workers at Kopitiam's food courts will have no choice but to abide by NTUC's rules since they are not unionised: "these hawkers are not unionised, they have to do whatever the U says, or else leave".
Earlier in August, Seetoh exposed "shocking costs" that will be imposed upon hawkers at the new Social Enterprise Hawker Centres the Government is initiating.
These costs include compulsory payments for a "coin changing service", a Gross Turnover Profit percentage, separate charges for crockery washing, collection and return, a monthly $600 fee for spot checks, and monetary penalties for closing shop, perhaps even in the case of an emergency.
Revealing then that "The folks at social enterprise food centres pay a total of $4000 pmth on average," on the Makansutra website, Seetoh noted that "Despite these startling high cost of operation and management fees, they are expected to offer at least one dish at below $3 in the menu."
Worrying that NTUC will impose such charges on the food centres they will likely acquire by the end of this year, Seetoh shared on social media on Sunday that this may kill hawker culture as Singaporeans know and appreciate it.
Seetoh also shared his fears that public hawker centres have been moving from the National Environment Agency's (NEA) purview to NTUC's control and that this will add to the labour movement-linked enterprise's monopoly of the industry, at the expense of hawkers and consumers:
"Now, they will also control our public hawker centres (they already manage 9 and we know the sad business model they came up with for the Social Enterprise Hawker Centres) as NEA is slowly relinquishing thier hawker centres roles to NTUC."
A day after Seetoh shared this, ruling party politician Amy Khor confirmed that the NEA has been appointing socially-conscious operators to manage new hawker centres on a non-profit basis under a new alternative hawker management model, since 2015.
Although Khor did not specifically mention NTUC as one of the operators contracted to take over management of hawker centres that were formally under NEA's purview, it must be noted that NTUC has been branding itself as a socially conscious organisation since its inception.
Seetoh called on the competition watchdog to "step in hard" and stop NTUC's proposed takeover of Kopitiam so as to "create an even and competitive level playing field in this food culture which is very dear and near to all Singaporeans."
Offering his own help to advise the Hawker Committee if need be, Seetoh sank in another dig at NTUC's alleged profiteering in other areas. He said, "I am sure NTUC is very capable of raking in even more monies (i lost track of how much they made "for the people") in other areas. Pse keep this one out of their control."
https://theindependent.sg.sg/ntuc-fairprice-goes-from-aiming-to-prevent-profiteering-and-earning-razor-thin-profits-to-making-380-million-last-year/
https://theindependent.sg.sg/makansutra-founder-reveals-shocking-costs-for-hawkers-at-new-government-run-food-centres/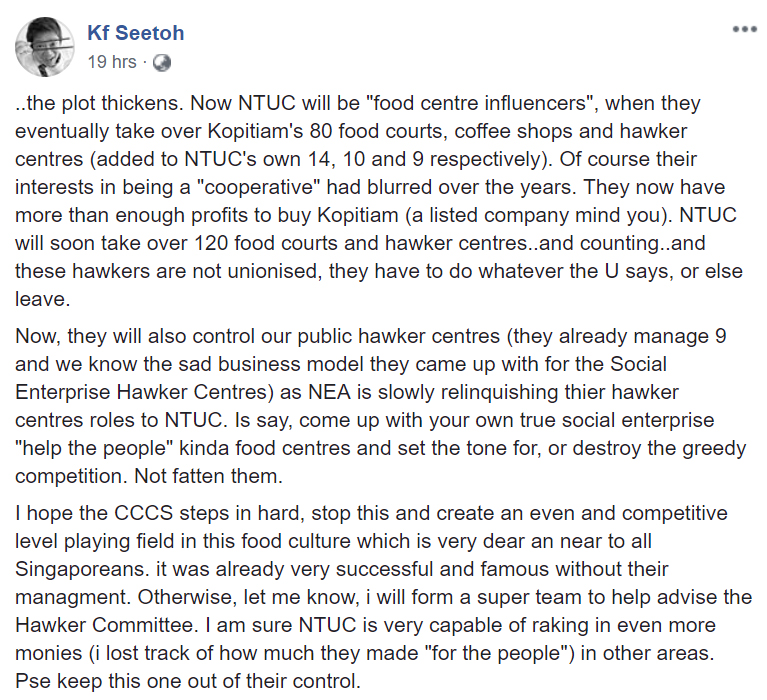 Follow us on Social Media
Send in your scoops to news@theindependent.sg 
No tags for this post.