Thirteen minutes after takeoff, Lion Air flight JT-610 vanished on Monday morning (October 29), on a flight that was only supposed to take one hour, from Jakarta to Pangkal Pinang on the island of Bangka.
All 189 people on the plane, including 3 children, two pilots, and six crew are presumed dead.
Bambang Suryo Aji, director of operations for Basarnas, said "My prediction is that no one survived because we only managed to retrieve body parts. It has been a few hours since the crash so it is possible all 189 people were killed."
The plane, a new Boeing 737 MAX 8 that had only flown 800 hours, behaved erratically after it took off, and the pilot requested to run around and land when the plane was around 22 kilometers (12 nautical miles) away. The night before the accident, the plane had reported some issues and had undergone repairs.
In the latest update, Indonesian searchers have heard transponder "pings" that could lead to the crash site and possibly provide clues as to why the plane went down.
The President of Indonesia also joined search teams at the port of Tanjung Priok on Tuesday, October 30.
The deputy director of the National Transport Safety Committee Haryo Satmiko said that the investigators were in need of more "technical efforts" to obtain the exact location of the black boxes of the plane. So far, only some remains of passengers as well as pieces of debris from the plane have been retrieved from the seas near Jakarta. The main body of the plane has yet to be found.
According to the head of National Transportation Safety Committee, Ir. Suryanto, the pings are no further than 3 kilometers from the eight current search points. And on Wednesday, October 31, the commander of Indonesia's Armed Forces, Hadi Tjahjanto, said that search efforts would concentrate on one point where the pings are believed to originate.
Investigators from Boeing also arrived on Wednesday, October 31, responding to a request from Indonesia's local regulatory authority.
Meanwhile, on social media, hoaxes about the downed flight have been circulating around social media, with photos and videos from other incidents being passed off as those from Lion Air JT-610.
Authorities in Indonesia have wasted no time in warning people not to share such hoaxes, as sharers could end up facing criminal charges. Under Law on Electronic Transactions (UU ITE) states that those found guilty could face as much as 6 years in prison. Both the Ministry of Communication and Information (Kominfo) as well as the National Police have issued official warnings.
Since Monday, Sutopo Purwo Nugroho, head spokesperson for the National Disaster Mitigation Agency (BNPB), has been hard at work debunking the hoaxes on his official Twitter account, providing the factual information about the photos and videos that people are passing off as from Lion Air JT-610.
One example is a photo of a baby, supposedly rescued from the crash. Mr. Sutopo tweeted, "A lot of posting photos on social media that there are baby passenger plane JT-610. These babies are babies who survived the sinking of the ship KM Sustainable going forward, in the waters of Selayar, on Tuesday 3/7/2018. So the info is a Hoax. Don't spread the hoax."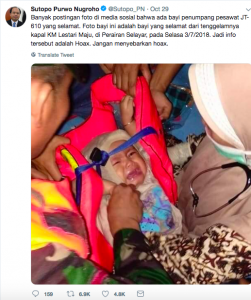 In another post, the spokesman put up a photo of an airplane with the caption "Think before posting" as well as hashtags "PrayforJT-610" and "#PrayforLionAir." He wrote, "Let us together not disseminate photos of victims and spreading the Hoax."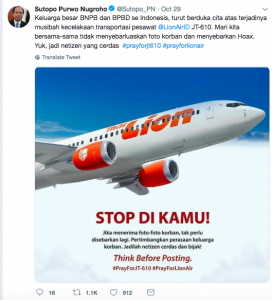 In another tweet, he showed the frightening wreckage of a plane crash from 2013, which everyone survived, but which pranksters are passing off as photos from the recent Lion Air accident. Mr. Stop tweeted, "At social media circulated this picture to mention as the Lion Air plane JT-610. The info is not true. It's A Hoax. This is a photo of the wreck of the aircraft of Lion Air JT-904 who experience misfortune at the airport I Gusti Ngurah Rai airport, Bali, on 13/4/2013. Don't spread the hoax."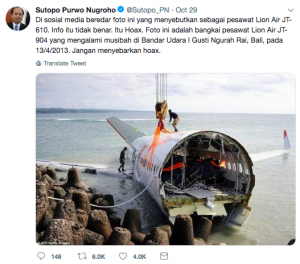 Read related: Local partnerships most effective way to help Indonesians affected by Sulawesi Earthquake and Tsunami—USAIDFollow us on Social Media
Send in your scoops to news@theindependent.sg