Former Prime Minister Goh Chok Tong threw shade at his predecessor, Singapore's founding PM Lee Kuan Yew, with a new Facebook post in which he said: "Instead of threatening to get up from my grave when things go wrong, I prefer to contribute while still alive but without getting in the way of the younger leaders."
Goh, who presently serves as Emeritus Senior Minister, was referring to the late Lee's famous 1988 quote, "Even from my sickbed, even if you are going to lower me to the grave and I feel that something is going wrong, I will get up." Lee had said the line two years before he handed the reins of the nation over to Goh, in 1990.
ESM Goh's subtle dig at Lee comes as he clarified on Facebook that the Emeritus Senior Minister-ship is just a title that does not afford him a ministerial salary.
His comments come after the Government attempted to quell the recent uproar over high ministerial pay and bonuses that was sparked after Singapore's current PM and Lee Kuan Yew's eldest son Lee Hsien Loong appeared to skirt a parliamentary question on the total bonus paid to ministers.
Responding to the ensuing public backlash, the Factually.sg website – run by the Ministry of Communications and Information's Public Communications Division – tried to debunk what it called "falsehoods" that are circulating online and said that one of these online falsehoods is that the Government is not upfront about how ministerial salaries are calculated.
Several netizens responding to the Factually article have pointed out that the issue is not that people do not understand how ministerial salaries are calculated – they want to know what the actual salaries are and expect the exact figures from the Government.
In the midst of this issue, ESM Goh came out to say:
"Factually, the government website, has debunked online falsehoods on PM's and Ministers' pay. I shall use this opportunity to debunk public perception that I am paid a ministerial salary. ESM is merely a title ????????????ℎ ???????? ???????????? . Though retired from Cabinet since 2011, I continue to work for Singapore in various capacities and use my stature to help raise awareness and funds for different groups of disadvantaged Singaporeans."
ESM Goh also dashed some Singaporeans' hopes by asserting that he has no plans to "do a Mahathir": "Moreover, I have no plans to do a Mahathir!"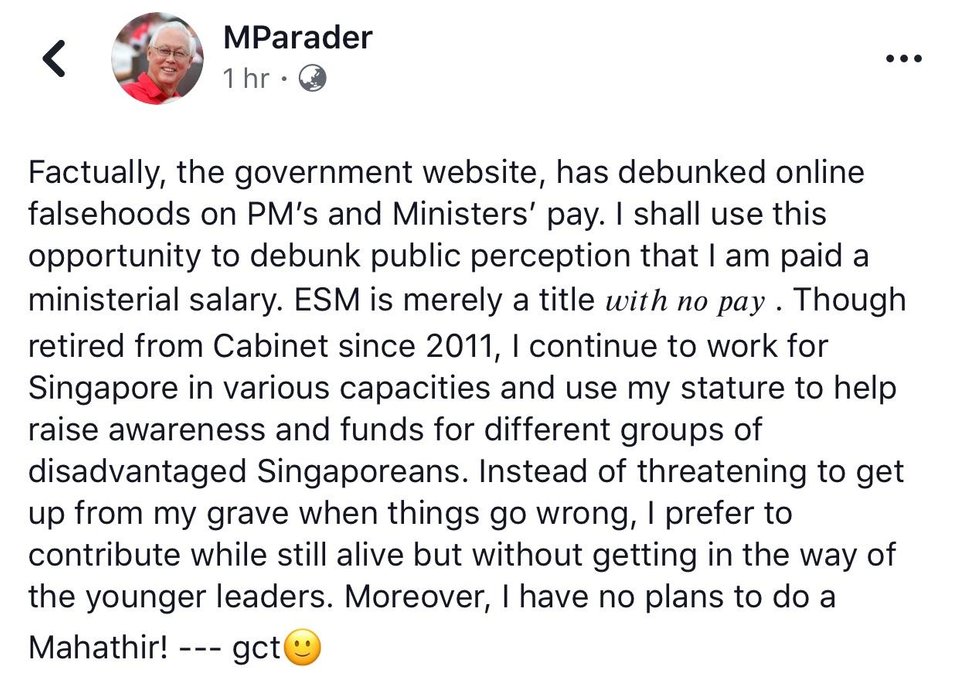 In May this year, rumours that ESM Goh may "do a Mahathir" began spreading like wildfire after shared pictures from his 77th birthday bash, and alluded to 93-year-old Malaysian PM Dr Mahathir Mohamad's stunning election victory: "Age is just a number, as Mahathir has proven. But it is family and friends who make that number light, meaningful and memorable. Thanks, all my friends out there."
Earlier that month, when news of Dr Mahathir's victory broke, ESM Goh congratulated the veteran politician and drew parallels between Dr Mahathir and Singapore's founding Prime Minister Lee Kuan Yew.ESM Goh's post congratulating Dr Mahathir, his subsequent referencing a quote by Dr Mahathir and his latest Facebook photo come a few months after an exchange between ESM Goh and Prime Minister Lee Hsien Loong led netizens to speculate that an internal conflict may be brewing between the pair.
The exchange between the top politicians began on New Year's Eve when ESM Goh urged the younger minister to select the next Prime Minister ideally within 6-9 months time, calling this an "urgent challenge" for the nation.
Later in January, the Prime Minister commented on ESM Goh's remarks and said that leadership succession will "take a little bit longer" than what ESM Goh had hoped. He added, in what appeared to be a pointed comment, that "ESM (Goh) is speaking with the privilege of watching things rather than being responsible to make it happen. I think we know it's a very serious matter."
In response, the ESM took to Facebook and posted a comment that appeared to throw subtle shade at the PM's "watching things" comment.
Posting about his meeting with former Iranian Minister of Economic Affairs and Finance, Dr Ali Tayebnia, the former PM said: "I recalled my two visits to Iran fondly, the first as Prime Minister and the second, as Senior Minister. Both of us now 'watch' things happen, and coincidentally share a common title. He serves as Senior Advisor to his President while I serve as Senior Advisor to MAS!"
ESM Goh made a similar reference to the "watching" comment in a subsequent post. Uploading two photos, one of himself and another of an unidentified man, the ESM wrote: "I watch as he ruminates in the calmness of Learning Forest, far from the maddening (sic) crowd."
A few hours later, the PM finally responded by sharing ESM Goh's post and wrote: "'Watching' MParader's posts: Touché! ? – LHL"
Netizens responding to the unusual exchange appear to largely feel that there is some sort of strain in the relationship between the nation's current and immediate past Prime Ministers.
One netizen wrote, "Using FB to get a message across between a former PM and the current PM reflects a strained relationship that requires some patching up. Hopefully, we don't end up watching more things happening," while others have criticised the leaders for being "childish":
FACEBOOK EXCHANGE BETWEEN PM LEE AND ESM GOH CAUSE NETIZENS TO BELIEVE INTERNAL CONFLICT IS BREWING
ESM Goh's posts prompted netizens to call on him to 'do a Mahathir' and join the opposition camp to fight the incumbent. Both men share similarities, having been Prime Ministers of their respective nations in the past. At 77, ESM Goh is 15 years junior to Dr Mahathir as well.
With ESM Goh's latest post, those dreams have been left shattered.Follow us on Social Media
Send in your scoops to news@theindependent.sg