As part of his effort to blood his second generation leaders in the 1980s, Lee Kuan Yew forced them to do Sunday walkabouts. Each minister would cover several constituencies. The walkabouts went on for nearly two months. The 2G walkabouters were Goh, Ong Teng Cheong, Lim Chee Onn, Tony Tan, Ahmad Mattar, S Dhanabalan and Bernard Liew.
Goh Chok Tong was then first Deputy PM. He kicked off the series in Boon Keng. The SMC, part of which was MacPherson, has since disappeared.
I remember Goh as a highly approachable and pleasant, almost gentle (I'll come to this description later) person. At one point, I had to climb onto the open-air truck carrying Goh and his grassroots people around. I managed to stand next to him. He was really tall (6 ft 2 inches versus my 5 ft 4 inches).
I asked him what he thought of the walkabouts. He said they were necessary if a politician wanted to get a good feel of the ground. He added that it was physically demanding because the walkabout group had to climb a lot of steps and walk long stretches.
At the end of that walkout, he held the usual press conference. I shot, I think, the first question: Had he ever been to Boon Keng before, in the first place? Not that many times but once or twice, he replied. He was entirely comfortable with everything  –  the residents, the shop owners, the hawkers, the grassroots machinery, the press. I went away with a good impression of him.
Some people may disagree but I believe Goh, the first part of whose biography  – Tall Order by Peh Shing Huei, publisher: World Scientific – has just been released, was keen to usher in a kinder and gentler administration after the hard knuckleduster years of Lee Kuan Yew. In fact, an earlier coffee table book on Goh was called Gentle Man (pub: Epigram).  The jury is really out on whether he succeeded in even planting the seeds of such an administration. But then, he cannot be blamed for what took place after him. As he revealed, he was prepared to let J B Jeyaratnam have a decent shot at running Anson but Goh plus 2G were over-ruled by LKY and the old guard.
We all know that Goh was not the choice of senior Lee as his successor. The latter said he would have preferred Tony Tan. But he left it to the 2G team to choose their leader and they chose Goh.
This brings me to my main point. One of the purposes in my covering the walkabouts was to assess the performances of the ministers. On how effective they were in public speaking and how at ease they were in connecting with residents.
This is my totally personal assessment list, in order of performance.
Topping the list was Lim Chee Onn, the former Trade and Industry Minister. Lim was extremely good in interacting with people and he spoke well in public. His leaving the Cabinet was a loss.
Number two was Ong Teng Cheong. The former NTUC Secretary-General who went on to become a popular President was just as at ease with people as Lim. He was a natural.
Goh Chok Tong came in third, not because he was not effective but because the other two seemed more able to enthuse the crowds.
The other ministers who had to do the walkabouts, as far as I could recall,  were OK but only just about.
I placed Tony Tan right at the bottom of the list. Maybe it was because of his background. I noticed that he was seldom at ease when talking to residents or visiting their homes. He likely regarded the whole thing as a chore. At that time, parts of Sembawang were still rural, complete with farms and they were nothing like today's built-up heartland, and these places were a world away from the airconditioned heights of OCBC Centre . But to be fair to him, the ex-banker was generally polite and not showy. He was a reluctant politician.
Goh Chok Tong's biography has reminded us that the leaders after Lee Kuan Yew must continue to break out of his long shadow to give us their frank and perhaps perception-challenging recollections of the making of post-Merdeka Singapore. Goh's, I hope, is just the beginning.
Obviously, the authorised biographer of Lee Hsien Loong would have his or her work cut. Possible authors: Warren Fernandez, Sumiko Tan (to also lunch/talk to the mysterious Ho Ching), Chan Heng Chee, Ignatious Low, Ilsa Sharp.
But these authors, presenter or cartoonist need not or should not apply: Catherine Lim, Sonny Liew, Bharati Jagdish, Michael Barr, Bridget Welsh.
Louis Cha and Raymond Chow: Giants of their time
Singaporeans who had gone ga-ga over Crazy Rich Asians – as book and film – should take some lessons from Hong Kong in producing real earth-shakers or people who have genuinely enriched others' lives. For some reason, we have been unable to develop larger-than-life personalities, like the two Hong Kong titans who died within three days of each other last week.
Louis Cha (whose full name was Cha Leung-yung), the famed wuxia novelist, died at the age of 94 on Tuesday. And on Friday, we learnt that another giant, Raymond Chow Man-wai, 91, the film producer, has passed away.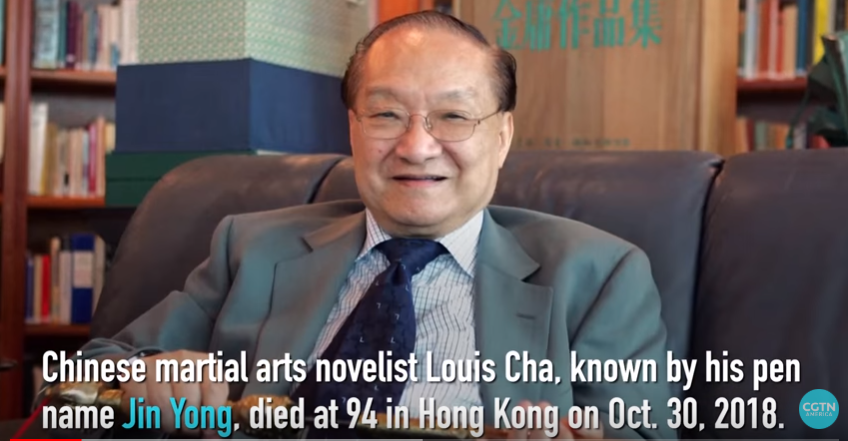 These were not ordinary newspaper headliners, here today, gone tomorrow, or people who are forever giving excuses for lack of results or impact. They had passion for and belief in what they were doing. Their legacy will endure.
Both were masters of their game. Louis Cha wrote 15 novels, including the famous The Legend of the Condor Heroes – the first in a trilogy about  two soldiers during a time of war in the Song Dynasty. Long before Lord of the Rings, the epic journeys of Guo Jing and Yang Kang were gripping Chinese all over the world. Deng Xiaoping and Xi Jinping were huge fans.
Raymond Chow was one of three or four cinema magnates who have had such an indelible impact on the film industry – the others were Loke Wan Tho (Cathay) and the two Shaw brothers, Run Run and Runme. Chow introduced Bruce Lee and later Jackie Chan to the world.
We mourn the passing of the two godfathers. Louis Cha and Raymond Chow are irreplaceable.
Tan Bah Bah is a former senior leader writer with The Straits Times. He was also managing editor of a local magazine publishing company.Follow us on Social Media
Send in your scoops to news@theindependent.sg