Former SMRT CEO Force Desmond Kuek is set to teach the public about leadership in times of crises and organisational transformation, despite a nearly six-year stint at SMRT, during which Singapore saw what many consider to be some of the worst service breakdowns, accidents and lapses in the transport operator's 3-decade history.
Kuek, who served as Singapore's sixth Chief of Defense Force after several years in the military, retired from the forces in 2010 and became Permanent Secretary at the Ministry of Environment and Water Resource from 2010 – 2012.
In 2012, he joined SMRT as chief executive officer. Under Kuek's leadership, SMRT – which was once the pride of many Singaporeans – faced intense public frustration over persistent train issues.
Mounting frustrations that were compounded by events like the train collision in Joo Koon in which at least 38 individuals were injured, and the unprecedented Bishan tunnel flooding that inconvenienced countless passengers after services along the North-South line were suspended for almost an entire day.
Public outrage against the transport operator grew after investigations into the tunnel flooding revealed that a maintenance team that was supposed to carry out works in the tunnel did not do so for almost one whole year but falsified records that they did.
After months of calling rumours that he would step down from SMRT "speculative," Kuek resigned from SMRT earlier this year and was replaced by the man who succeeded him as Chief of Defense Force, fellow ex-army general Neo Kian Hong, after SMRT undertook a global search to find its new leader.
After leaving SMRT, Kuek has founded a consultancy called GENIUM & CO. The company's website shows that it offers "holistic solutioning" and "impact-focused programmes" to individuals and organisations. GENIUM & CO says that its team works to:
"empower

 individuals to gain personal mastery, live their best, and make a meaningful difference to society";

"energise teams to synergistically build competence, cohesion and collaboration in delivering consistently superior performance at work"; and

"engage

 people and organisations to transform themselves, create new possibilities, 

and shape their desired shared future."
Some of the programmes GENIUM & CO offers include: "Self Mastery & Aspirational Leadership, Crisis Leadership​, High Impact Leadership, Effective Team Leadership, Transformational Team Leadership, Leading at the Pinnacle, and Building Organisations that Last​"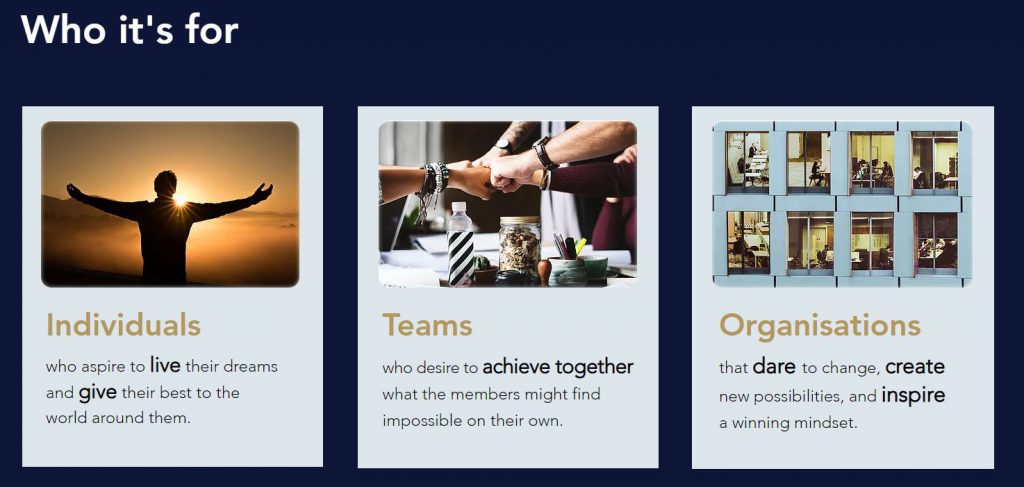 GENIUM & CO is co-led by two managing directors – Fred Tan, the former head of the SAF Centre for Leadership Development, and Ang Yau Choon, commander of an elite unit for special operations.
Desmond Kuek is listed as the sole founder of the organisation. GENIUM & CO's website describes Kuek's career at SMRT as such: "At SMRT Corporation, he steered the company on a path of sustainable growth and system renewal, turning the company around in operational performance and service quality. 
"He successfully privatised the company in an effort that was affirmed by Asset Triple-A as the Best Privatisation M&A deal in 2016. Under his watch, SMRT won numerous human resource, public relations, service excellence and corporate governance awards. He was awarded "Executive of the Year" by Singapore Business Review in 2016."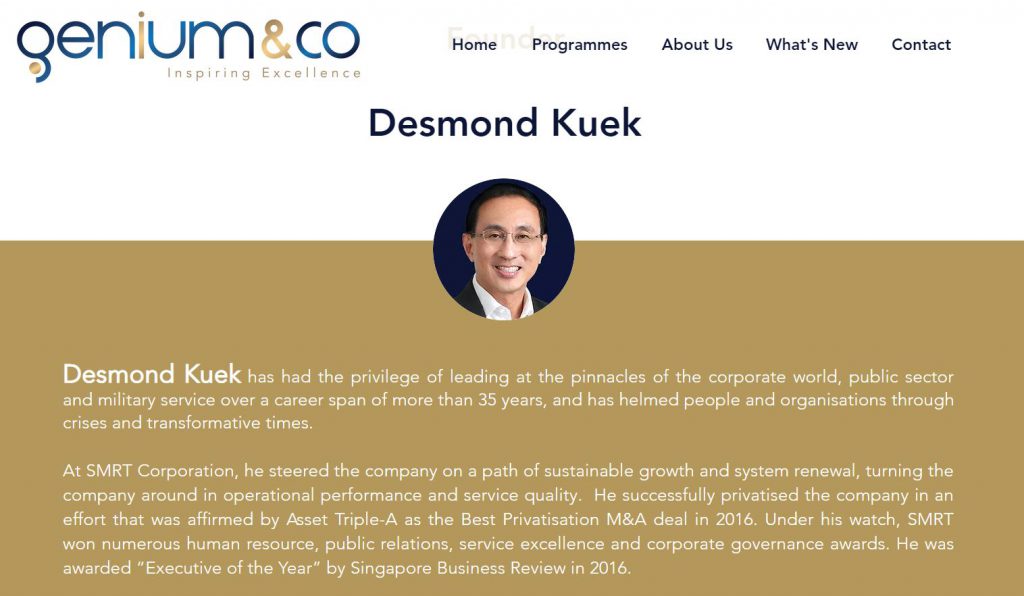 The website does not make any mention of the various crises that Kuek faced during his tenure at SMRT. After the unprecedented MRT tunnel flooding, Kuek said that there were "deep-seated cultural issues" within SMRT.
Interestingly, Kuek's successor Neo Kian Heng contradicted this statement last Friday when he told the press that there are no such "deep-seated cultural issues" within the company. The new SMRT CEO added:
"In some militaries, they use this term – 'there are no poor soldiers, there are only poor leaders'. This is a team sport. The whole organisation is required."Follow us on Social Media
Send in your scoops to news@theindependent.sg 
No tags for this post.