World-famous author J. K. Rowling and her (even more famous) character Harry Potter share the same birthday, July 31, a date which proved auspicious for a very lucky woman in Staffordshire, England. Her copy of 
Harry Potter and the Philosopher's Stone
, which she picked up at a rummage sale for a mere £1 (S$1.67) turned out to be an extremely rare first edition. The tome, which contained two typos, sold for an outrageous £34,200 (S$57,000) at
Hansons Auctioneers
in the UK on July 31, 2019.
J. K. Rowling's best selling series, which begins with the first book, Harry Potter and the Philosopher's Stone (Harry Potter and the Sorcerer's Stone in the US), is beloved by readers of all ages, all over the world.
We've all heard of fist edition books selling for almost-obscene amounts. While £34,200 (S$57,000) is a lot of money, other first editions of the same title have garnered even higher prices at auctions; in fact, a copy which belonged to J.K. Rowling's first literary agent sold in London earlier this year for a jaw-dropping £68,812 (nearly S$115,000).
Still, for shelling out only £1 (S$1.67), £34,200 (S$57,000)it is a pretty good return. The rare first edition is one of only 500 copies that contain two particular typos.
While typos are usually considered bad in the publishing industry, it's those two typos that distinguish the first edition books from later editions.
One typo can be found on the book's rear cover. If you look closely, the book's title is misspelled; it reads Harry Potter and the Philospher's Stone.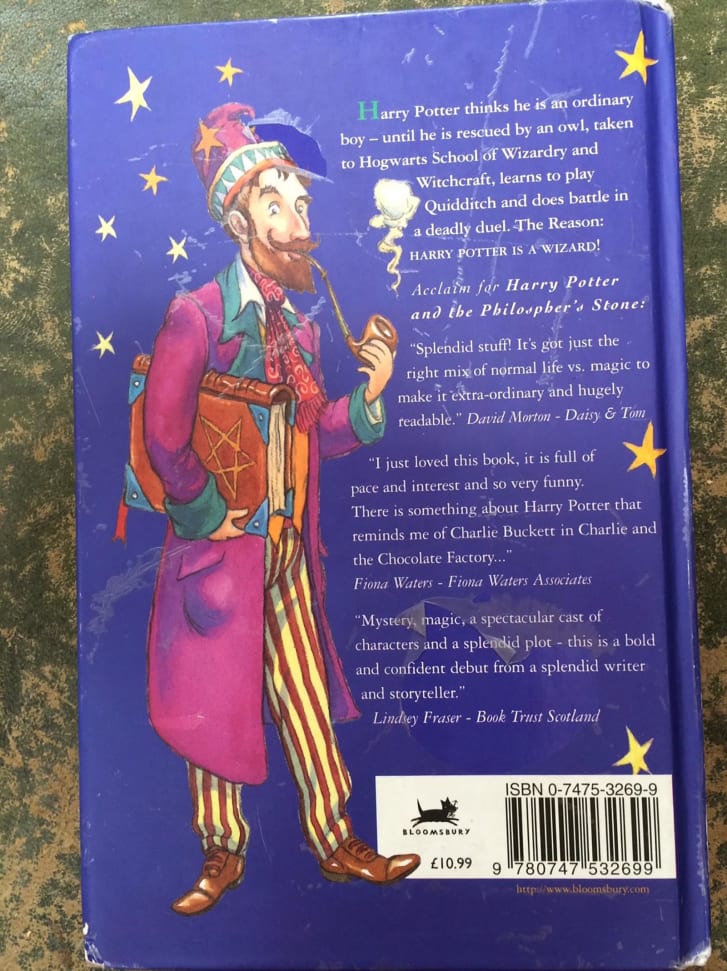 The second typo lies inside the book itself, on page 53, in the equipment list that Harry is required to bring to Hogwarts — the phrase "1 wand" is mistakenly written twice.
Aside from the two typos, books from the first print run of Harry Potter and the Philosopher's Stone can be distinguished by how Rowling is identified on the copyright page — in the first edition, she's referred to  as "Joanne" rather than her initials "J.K."
The book that was recently auctioned off was bought about 20 years ago, by a 54-year-old office worker who wants to remain anonymous. She had all but forgotten about the book until she needed to raise money to fund a new bathroom. She invited Jim Spencer, a rare books expert at Hansons Auctioneers in Staffordshire, England, to place value on three boxes of books, one of which contained, as Spencer put it, the "holy grail of Harry Potter books."
According to Jill Gallone, head of media at Hansons Auctioneers, Spencer and his fellow experts receive many calls and emails from folks who think they own a first edition Harry Potter book.
Gallone explained that Harry Potter books from the first print run are so rare because "they nearly all went to schools and libraries."
In June 1997, when Harry Potter and the Philosopher's Stone was first published, Rowling's manuscript had already been rejected by other publishers who didn't think readers would take well to the story. Boy were they wrong!
Hansons Auctioneers expected the book to sell for somewhere between £20,000 (S$33,000) and £30,000 (S$50,000), but the owner was unsure.
While three phone bidders fought hard over who was to own the rare tome, a private collector in the UK, who also wants to remain anonymous, emerged triumphant.
But why should one book fetch so much? What makes Harry Potter books so valuable? They are, simply put, some of the best and most well-written books of the 20th century. -/TISG
Send in your scoops to news@theindependent.sg