Here's hoping that a fat-shaming fitness trainer learned his lesson after the gym he works for suspended him for posting a photo on Instagram of a portly woman ordering ice cream and calling it "disgusting."
The trainer and purported award-winning bodybuilder goes by the name Shah Cutler on Instagram. The full comment on his post read, "wtf so fat still wanna ice cream? Disgusting."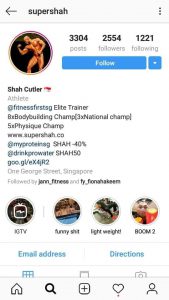 A netizen, Jufri Danish, outed the trainer on a post on Danish' Facebook account on November 19, which then went viral. And since he lists himself as a @fitnessfirstsg elite trainer, he was eventually suspended by Fitness First Singapore.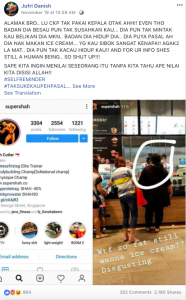 The netizen roundly called the trainer out in Malay.
ALAMAK BRO.. LU CKP TAK PAKAI KEPALA OTAK AHH!! EVEN THO BADAN DIA BESAU PUN TAK SUSAHKAN KAU… DIA PUN TAK MINTAK KAU BELIKAN DIA MKN.. BADAN DIA HIDUP DIA.. DIA PUYA PASAL AH DIA NAK MAKAN ICE CREAM… YG KAU SIBOK SANGAT KENAPA!! AGAK2 LA MAT.. DIA PUN TAK KACAU HIDUP KAU!! AND FOR UR INFO SHES STILL A HUMAN BEING.. SO SHUT UP!!!
SAPE KITA INGIN MENILAI SESEORANG ITU TANPA KITA TAHU APE NILAI KITA DISISI ALLAH!! 
#SELFREMINDER
#TAKSUKEKAUPEHPASAL
#SILASHARE
#SILAVIRAL
Which basically translates to telling Shah not to bother the woman, who never asked him to buy her ice cream. She's a human being, and Shah should mind his own business. Jufri Danish ends his post with, "Who are we to judge someone without us knowing what our value is by Allah!!"
On the same day, Fitness First responded to the post, with regrets and apologies for the incident.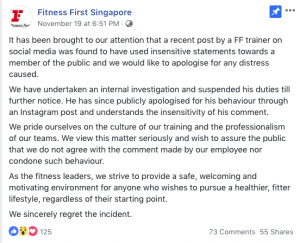 Here is the text in full.
"It has been brought to our attention that a recent post by a FF trainer on social media was found to have used insensitive statements towards a member of the public and we would like to apologise for any distress caused.
We have undertaken an internal investigation and suspended his duties till further notice. He has since publicly apologised for his behaviour through an Instagram post and understands the insensitivity of his comment.
We pride ourselves on the culture of our training and the professionalism of our teams. We view this matter seriously and wish to assure the public that we do not agree with the comment made by our employee nor condone such behaviour.
As the fitness leaders, we strive to provide a safe, welcoming and motivating environment for anyone who wishes to pursue a healthier, fitter lifestyle, regardless of their starting point.
We sincerely regret the incident."
On November 20, Shah issued an apology on his Instagram account, saying,
"I would like to sincerely apologise for my recent IG story post.
I was too rash and understand the insensitive statement is uncalled for and offensive. I am deeply sorry if my comment hurt or offended anyone.
As a trainer, I'm deeply committed to my duty to help people achieve their health and fitness goals and I'll continue to do so in more appropriate ways from now."
He has also changed the information and settings on his Instagram and Facebook accounts.
Netizens were appalled at Shah's insensitivity, and expressed their outrage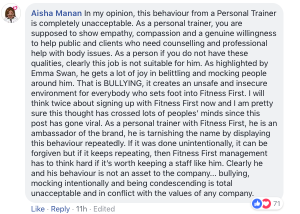 Others praised Fitness First for their swift action in addressing the issue

Still, there were netizens who felt that Shah should be fired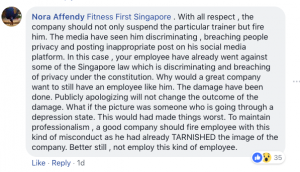 But other netizens said that he should be given another chance

Read also: Netizens predict that free Wi-Fi on buses will lead to further fare hikesFollow us on Social Media
Send in your scoops to news@theindependent.sg 
No tags for this post.