The success of the co-working set-up has given way to the rise of another popular trend—co-living, which is a most interesting concept that combines the independence and ease of living alone with the social benefits of being around other people.
Co-living spaces, often defined as curated living spaces anchored by a community spirit, are popping up in different parts of Singapore, enticing mostly millennial tenants but also business and travel clients to their doors.
These spaces are more than just rented rooms or homes, and they're definitely more than just hostels or dorms. Most of them have community managers who pair like-minded "members" (the new term for "tenants" in co-living speak)  together as roommates or housemates, and communal areas like the kitchen and living area are designed to encourage interaction and stimulate the exchange of ideas.
Membership fees usually include fees for cleaning, laundry and other chores. This ensures that the rooms (especially the shared spaces) are always clean and ready for members' use. Co-living spaces invite people to focus on living and having positive interactions with each other.
While co-living as a concept seems hip and cool, is not something new at all. It goes back to a time when people lived and worked together as a village or a tribe, encouraging a spirit of sharing and peaceful co-existence.
If you don't want to commit to a long-term lease or want to change up your way of living, might co-living be for you?
Check out some of these cool spots where you can channel your kampung spirit in a modern way.
Lyf at Funan Mall is currently one of the hippest and trendiest places to hold residence.
The largest co-living space in Asia boasts of an uber-millennial vibe, with a fun giant ball pit, an exercise area with "hamster wheel" treadmills and seesaws, shared workspaces and more.
Each room is funky, cool, tech-ready, perfectly arranged, and simply waiting to be Instagrammed.
Business or leisure clients can choose from studio suites with either single or bunk beds, shared business suites or big areas for a group of friends.
Lyf offers short- and long-term options for all sorts of stays, from one-night group parties to six-month rentals.
It's all about the digital space as much as the physical space at Lyf, which has its own app for bookings and services. The brand's community managers, wittingly called "Lyfguards" are ready to respond to queries and messages sent by residents.
Lyf's social zones, the "Connect" areas, feature cool co-working spaces and a lounge area that can host live music sessions, gatherings and talks, and co-cooking is encouraged int the social kitchen.
Rates: From $150 a night for a studio
Location: Funan Mall
Hmlet has been in the co-living business since 2016, with more than 75 locations in Singapore, Hong Kong, and Australia.
It's all about community living at Hmlet. Communal spaces include rooftops, lounges, kitchens, a wellness studio, an outdoor plunge pool, and an all-day cafe. Social events focusing on lifestyle and wellness such as yoga and meditation classes are also offered at Hmlet.
Hmlet offers pocket rooms (economical, single bed with shared bathroom), regular rooms (queen bed with shared bathroom), master rooms (queen bed with ensuite bathroom) and even studios (double bed with ensuite bathroom and kitchenette), making the living options varied and exciting.
Weekly cleaning services and laundry facilities are part of Hmlet's offerings, and month-to-month rental renewals are easy for those who don't have their plans set in stone.
Rates: From S$1,000 a month for a pocket room
Locations: CBD, Orchard, River Valley, Tanjong Katong, Joo Chiat and Little India
Commontown offers different accommodation options for urban dwellers who enjoy themed designs. Each location's interiors is specific to the character of the area.
Commontown seeks to break down the boundaries between spaces in each town, giving their members comfortable access to community in their shared spaces while enjoying privacy and solitude in their carefully-designed rooms.
Each home is fully furnished, and membership services include maintenance servicing, weekly cleaning, basic supplies, and free access to the common spaces.
At Commontown, a three-month stay is the minimum amount of time being offered.
Rates: From S$1,600 a month for a private room
Locations: Bukit Timah, Paya Lebar, Tiong Bahru, River Valley UE Square and River Valley Urbana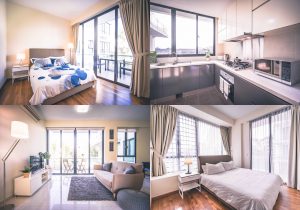 Easycity caters mainly to expats who are focused on work, providing fully-furnished rentals that are comfortable for living and working. Plus, additional office equipment like printers and scanners can be provided upon request of the client.
Part of Easycity's offers include a full-time housekeeper whose duties are all about handling your cleaning and laundry-related chores and a dedicated account manager who takes care of other details necessary for your stay.
Easycity may not have as many social events as other co-living spaces, but socialising and trading ideas with fellow work-focused guests is encouraged.
For expats looking for entire homes that are geared toward comfortable living, Easycity has options.
Rates: From $1,400 a month for a room
Locations: Marina Bay, Tanjong Katong, Geylang and Pasir Panjang
With locations in the US, Vietnam, Singapore, and Japan (coming soon!), CP Residences offer a variety of co-living options to suit different needs, from simple private rooms to one and two-bedroom suites.
CP Residences mixes personal privacy with social co-existence, encouraging synergy in community activities, events, or easy-going get-togethers between residents.
Residents also get access to a fully-equipped kitchen, flexible bed arrangements, as well as dedicated customer service that offers everything from airport pick-ups to maintenance and repairs.
Rates: From $1,700 a month for a private room
Locations: One Duchess, Viva Vista, Cairnhill Crest, Devonshire Road, Oakwood Downtown, Commonwealth, Tanjung Rhu and Orchard
Login's personal take on co-living is all about providing an exciting environment that allows for vibrant interactions between people from different backgrounds and experiences.
As most co-livers are young, international expats seeking to join a community in their new homes, spaces like Login are perfect to facilitate conversations and friendly exchanges between residents.
Community Managers are on hand to help curate activities for guests while ensuring that facilities are kept in top-notch condition.
Rooms at Login are kept purposefully white and bright, encouraging guests to get comfortable and personalise their rooms.
Rates: From $1,500 a month for a single room
Locations: Queensway, Novena and East Coast and Orchard Road
/TISG