27 year old Yeo Liang Wei, who is accused of having molested an unnamed woman shortly before midnight on September 14, was brought back to Tampines Street, the alleged scene of the crime, by authorities yesterday.
The logistics executive was charged in court the next day with one count of molestation. If found guilty he could go to jail for as long as two years, be made to pay a fine, or be caned.
Police are still investigating the alleged molestation, and Mr. Yeo is scheduled to return to court on Friday, September 21.
His victim is a 33 year old female insurance agent who was walking from Tampines MRT Station to her home at Tampines Street 21, at 11:55 that night. Mr. Yeo is supposed to have run up to her from behind and touched her right breast, and then ran away.
After she was groped, she yelled and then ran after Mr. Yeo. A man who was in the vicinity also ran after Mr. Yeo, and even alerted the police.
Mr. Yeo ran to Block 230F, Tampines Street 24, supposedly his residnece, and went up the stairs. But by 12:13 am on September , police had arrived and subsequently arrested him on the third floor of the building.
This morning, (Wednesday, September 19), he was led by authorities to the footpath along Tampines Street, and then towards Block 259, Tampines Street 21.
The number of molestation cases is on the rise in Singapore. From 685 from January to June 2017, the number of molestation cases rose to 832 for the same period this year.
Netizens are naturally concerned about safety

Others suggested ways for the alleged molester to be penalized for his crime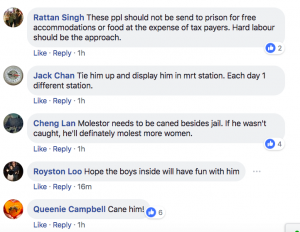 Another netizen commented that one moment of losing self-control could have grave consequences indeed, and that people must think of their futures

Follow us on Social Media
Send in your scoops to news@theindependent.sg