KUALA LUMPUR – The People's Justice Party (PKR), the party that won the most seats within the Pakatan Harapan coalition is set to hold its internal party elections over the next nine weeks which begun at the end of August 2018. And with the Port Dickson by-elections, in which Anwar is contesting is being held at around the same time, the #2 post is keenly watched.
Rafizi Ramli began his campaign by sharing his nomination papers through his official Twitter page. Some doubted his candidacy due to his 30 months' conviction by the Shah Alam sessions court back in February 2018 over a case involving the National Feedlot Corporation (NFC). However, the Registrar of Society had approved Rafizi Ramli's application to contest just in time for the PKR party elections.
Saya telah pun selesai proses pencalonan.

Saya akan mula berkempen di negeri-negeri minggu ini:

Johor (JB) – Jumaat, 10/8
N9 (Seremban) – Sabtu, 11/8
Melaka – Ahad, 12/8

Maklumat lanjut esok. Jemput ramai2 sampaikan suara akar umbi. Anda cakap kami dengar.#Reformasi20Tahun pic.twitter.com/I3kehCUk1Z

— Rafizi Ramli (@rafiziramli) August 5, 2018
He had to sit out the recent general elections due to the same court conviction but still managed to contribute greatly to Pakatan Harapan's victory through INVOKE, a voting think-tank he had formed. INVOKE helped to identify voting tendencies and probabilities of voters across the country. The data and research collected in the months prior to the 14th General Election helped the coalition further accurately plan their strategies against rival Barisan Nasional. Rafizi Ramli went on to claim that he was contesting PKR's second most important post to ensure that Anwar Ibrahim is made Prime Minister when Mahathir Mohamad steps down in two years' time as promised.
Meanwhile over at camp Azmin Ali, all was so quiet that there were even rumours of him wanting to challenge Anwar Ibrahim for the president's post. But Azmin Ali's intentions were made clear when his aide turned up at the PKR headquarters in Petaling Jaya with his nomination papers filed for post of deputy president, the position he has held comfortably since 2010.
Soon the campaign got off to a rather fiery start when pro-Rafizi Ramli supporter Abdullah Sani Abdul Hamid, member of Selangor state assembly for Kapar openly accused Azmin Ali of siding with Prime Minister Mahathir Mohamad and Daim Zainuddin against PKR to deny Anwar Ibrahim the post of Prime Minister which had been promised during the elections. Mahathir had appointed Azmin Ali to the position of Minister for Economic Affairs as part of his cabinet line-up at the end of May 2018 and it did not sit well with some of Anwar Ibrahim's die-hard supporters who see Azmin Ali's rise in the government as a threat. Abdullah Sani had moved to cast doubts over Azmin Ali's loyalty to Anwar Ibrahim.
Azmin Ali's allies vice-president Dr Xavier Jeyakumar and Tian Chua however were quick to defend him, citing his contributions to both the party and the state of Selangor where he was chief minister for nearly four years. And Azmin Ali asserted his own loyalty by sharing how he had stayed true to the party's principles during PKR's challenging formative years in the opposition with Anwar Ibrahim in prison. Most Malaysians who had witnessed Anwar Ibrahim's sacking and subsequent arrest back in 1998 would find it hard to question Azmin Ali's loyalty towards his mentor.
Despite what may be deemed as a ruthless and aggressive campaign for this year's party elections, both Azmin Ali and Rafizi Ramli professed their commitment to the agenda of reformation which PKR is founded on. PKR president elect Anwar Ibrahim and its other leaders like Dr Xavier Jeyakumar reassured the Malaysian public that party factions are part of politics and that all is well in PKR. They proudly claimed that PKR practiced democracy in its elections and that every party member is free to contest any post they wished.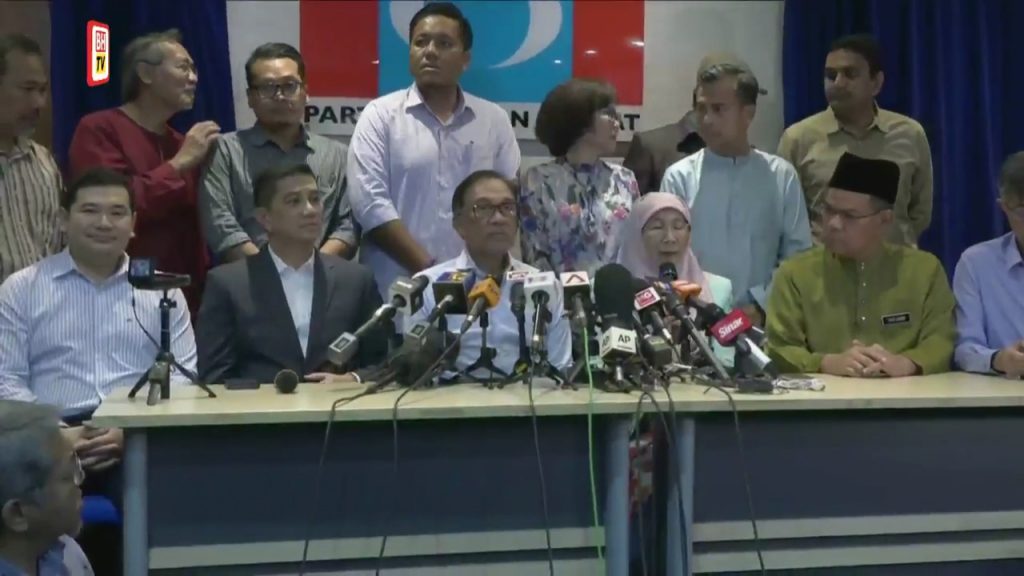 As for now, their competition to be Anwar Ibrahim's right hand man would have to be shelved. PKR has a formidable task ahead with their president elect Anwar Ibrahim contesting the parliament seat of Port Dickson this October for his official return to active politics. Very likely that their party president would win this seat and so he would need a most capable and reliable deputy to help him steer the party. The battle for the deputy president's post would just continue once Anwar Ibrahim is once again comfortably seated in the Malaysian parliament.Follow us on Social Media
Send in your scoops to news@theindependent.sg