An antinatalist poster was reportedly seen on the campus of Nanyang Technological University (NTU) recently. Antinatalism is the belief that giving birth is wrong, in a moral sense. The message of the poster runs counter to the government's push to encourage a higher birthrate, and the university has told a media outfit that the poster was never submitted for approval and that the sentiments on the poster do not reflect the views of NTU.
The poster, which ended up on Reddit's r/Singapore thread last Thursday, February 7, says this, along with a photo of an angry-looking baby.
'SO YOU ARE TELLING ME YOU ARE FULLY AWARE OF THE LIMITLESS TRAGEDIES OF LIFE
AND YOU HAD THE AUDACITY TO GIVE BIRTH TO ME?
ONLY YOU CAN PREVENT FUTURE SUFFERING. By not having a baby, you are protecting YOUR future child from
Sickness/diseases
National Service
Working 9-5
Natural disasters
Mental disorders
Death of a loved one
Rape
Torture
Disabilities
Sexual dysfunction
Accidents
Unfulfilled Desires
Poverty/hunger
Old age
Death
ALL FORMS OF SUFFERING
BECOME AN ANTINATALIST TODAY!
ALL YOU NEED TO DO IS SIMPLE. DO NOT PROCREATE.
IF YOU REALLY LOVE THEM, DO NOT GIVE BIRTH TO THEM.'
The poster is quite a mouthful, with a lot of points to unpack. For example, how can you protect your future child if you never give birth to them? The logic, or lack of it, is glaring.
Since it was put up by a user called u/CannedSoupSurvivor, the post has been upvoted more than 1,500 times.
Media publisher Coconuts Singapore reports that the poster has been re-posted on the r/antinatalism thread and, interestingly enough, the r/The_Donald thread, which supports US President Donald Trump.
Antinatalism has been in the news lately, due to the news, now gone viral, of an Indian man named Raphael Samuel, who announced last week that he is suing his parents for giving birth to him without his consent. Samuel, who identifies as an antinatalist, has said, "An antinatalist's agenda is to convince people to stop reproducing. Why? Because life involves a lot of suffering."
It's possible that there may be an individual or a group with antinatalist sentiments at NTU since this is not the first time such a poster was put up at the university. A very similar poster, with identical sentiments, was put up a few months prior to this one.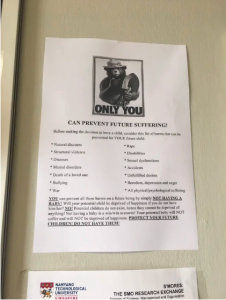 Material put up in NTU needs to be approved by the university before posting, and are marked with an official stamp as proof. The two antinatalist poster are unmarked by these stamps.
A spokesperson from NTU told Coconuts, "The posters were not submitted for the university's approval, and the content does not reflect the university's views."
Furthermore, the university said that they are investigating the issue. "We are looking into this matter. Any unauthorized posters will be removed."
Read related: Man sues parents for giving birth to him without his consent
https://theindependent.sg.sg/man-sues-parents-for-giving-birth-to-him-without-his-consent/
Follow us on Social Media
Send in your scoops to news@theindependent.sg