Photos of a commemorative watch the Anglo-Chinese School (ACS) is selling to its alumni for a hefty $3,500 price tag has been going viral on social media, especially since Minister for Trade and Industry Chan Chun Sing just revealed he consoled ACS students who were upset at being called "elitist," a few days ago.
Speaking at the Institute of Policy Studies' (IPS) 30th anniversary conference last Friday, Chan Chun Sing shared this anecdote as he spoke about elitism and discrimination:
"Recently I was speaking to students at ACS (Anglo Chinese School) Independent and I made this point to them, because some of them were feeling a bit down because people were making fun of them saying that they are elitist because they are in ACS Independent.
"I told them this: To be in ACS Independent is not elitist, because you have done well to get to where you are. But if you are in ACS Independent and you forget to reach out or you refuse to reach out to those people who are less privileged than you then, I think, that is the definition of elitism."
"To be successful in our system and to be able to rise up and fulfil one's potential is not elitism. To be successful and not reach out is elitism and I hope that is something that we bear in mind as we go forward as a society."
Today, pictures of ACS' commemorative watch circulated online. Retailing for $3,500, the watch bears the logo of ACS on the watchface. Those who purchase the watch can reportedly choose to have either the words "Class of 1989" or "The Best is Yet to Be" engraved on the back of the watch.
While $3,500 is a pretty typical price point for a customised Bell & Ross watch, and while ACS alumni could be used to pricier watch brands like Rolex – which could fetch over $20,000 – many netizens felt that the price is a little steep for a school commemorative watch.
One netizen, an ACS old boy, even pointed out that the school sold commemorative watches for $300 – less than a tenth of the price of the new watch – in the past.
Netizens responding to the picture of the new watch also mocked the design of the watch and said that the price tag could have been justified if the design was better: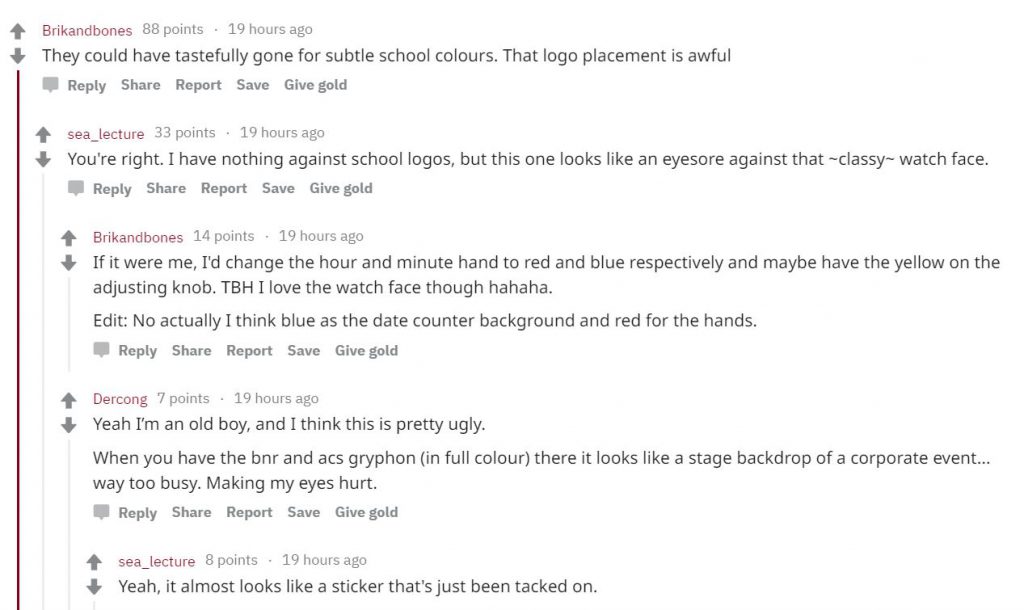 Follow us on Social Media
Send in your scoops to news@theindependent.sg