NTUC Enterprise's proposed takeover of food centre chain Kopitiam rang alarm bells for many Singaporeans who saw the move as part of NTUC's plans to monopolise the hawker industry.
Joining the voices of several Singaporeans, renowned local food guru KF Seetoh also slammed labour movement-linked NTUC Enterprise indicating that the deal to take over Kopitiam's 80 food centres across Singapore is a bid by NTUC to monopolise and profiteer from the hawker industry.
Seetoh – the founder of the Makansutra food network – pointed out that a monopoly of the industry would come at the expense of hawkers and consumers since hawkers, being non-unionised, would have no choice but to abide by the shocking costs that are imposed at such private organisation-run Social Enterprise Hawker Centres (SEHCs).
Highlighting that these high costs hawkers would be forced to contend with will inevitably be passed on to consumers and eventually kill hawker culture as Singaporeans know, love and appreciate it, Seetoh urged the authorities to keep Kopitiam out of NTUC's control.
NTUC, on the other hand, has been positioning itself as a socially conscious organisation since its inception. It announced that it will offer $1.50 meals at these SEHCs, seemingly contrary to the claims that it is only working to profiteer through the SEHCs.
Framing its moves into the hawker industry as one that would benefit the people, NTUC Enterprise announced:
"NTUC Enterprise and its social enterprises aim to ensure that everybody has access to affordable, quality goods and services. This intended acquisition will allow us to do this by expanding our social footprint. We are also exploring how to provide not only affordable food, but also healthier meal options.

"Current plans include increasing the number of Rice Garden stalls islandwide where meals can cost as low as $1.50. This would allow us to reach out to more people. Rice Garden, a social outreach programme of NTUC Foodfare, provides affordable, nutritious meals at hawker centres and coffee shops."
A closer look, however, shows that these $1.50 meals that NTUC Enterprise so benevolently announced only appears to be available for ComCare cadholders and NTUC Foodfare Privilege cardholders – not all Singaporeans: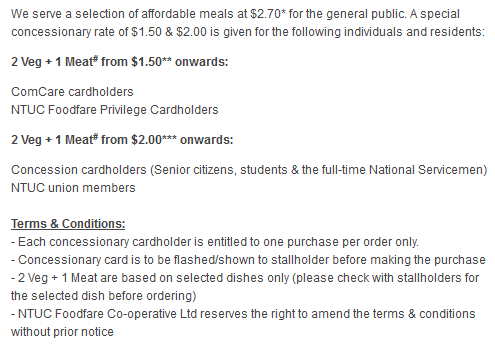 The fine print further shows that the cheapest meals for the ComCare cardholders and NTUC Foodfare Privilege cardholders may not necessarily only cost $1.50. At some centres, they can go for as much as $2.50 – not the uniform $1.50 that NTUC trotted out:

Read more about why an influential industry figure like KF Seetoh would bemoan NTUC's plans to install a larger footprint in the hawker industry here, here and here.
https://theindependent.sg.sg/makansutra-founder-slams-ntuc-for-trying-to-monopolise-and-profiteer-from-hawker-industry/
https://theindependent.sg.sg/please-preserve-our-public-hawker-centres-makansutra-founder-urges-amy-khor-in-open-letter/
https://theindependent.sg.sg/makansutra-founder-reveals-shocking-costs-for-hawkers-at-new-government-run-food-centres/Follow us on Social Media
Send in your scoops to news@theindependent.sg