Season 1 of MasterChef Singapore ended on Sunday night, October 21, with some netizens not too happy over who won. 30 year old IT manager Zander Ng emerged victorious, with 20-year-old student, Genevieve "Gen" Lee, as runner-up, despite the mistakes that Mr. Ng made.
The two finalists' last challenge had been to execute an Asian banquet with 5 courses in under three hours. While both contestants earned praise from the judges because of their flavorful dishes, Mr. Ng had two seemingly major strikes against him, since the fish he served in his Pan-seared red snapper with beurre blanc still had bones in it, and his dessert of Ondeh ondeh panna cotta was a bit of a mess.
Ms. Lee, on the other hand, executed a nearly flawless buffet of dishes, both in presentation and taste.
In the end, however, the judges declared Mr. Ng the winner, because of his grilled flank steak with Asian chimichurri sauce, shaved fennel with soy and honey dressing, and pillowy fettuccine carbonara with sichuan peppercorns. One of the judges, Audra Morrice, even declared that Mr. Ng could open his own pasta restaurant.
Aside from the cash prize of S$10,000, Mr. Ng also won a shopping voucher worth S$2,000 from Cold Storage, appliances from Whirlpool, KitchenAid, Ariston and Thermomix, as well as a book deal with Marshall Cavendish.
More than that, he gets a three-month internships at Folklore and Artichoke, the restaurants of MasterChef judges Bjorn Shen and Damian D'Silva, prompting Mr. Ng to declare, "Given the opportunity to work in their kitchens with them, what I can learn in a three-month period at both is more than I can do on my own in many years. I think they will be great mentors based on the relationships we have on the show. I just want to learn more because this is just the beginning for me."
Congratulations to Zander for taking out the MasterChef Singapore title! ?? Catch him LIVE on ChannelNewsAsia tomorrow 10PM as he shares more about the win! ???#MasterChefSG

Posted by MasterChef Singapore on Sunday, 21 October 2018
While most people rejoiced at Mr. Ng's success, others seemed to feel that Ms. Lee is the better chef, and was robbed of the grand prize.


Others said they guessed that Mr. Ng's gender and good looks played a role in his win, as he had a better look for marketability and representation.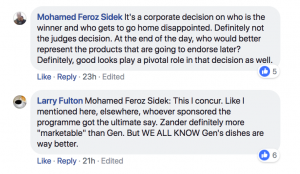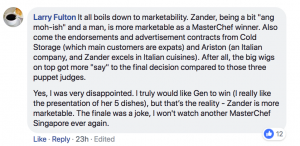 Some were simply incredulous that Mr. Ng would win despite the major mistakes he made while cooking.





Yet another predicted that Ms. Lee would end up being more successful.

One netizen even invoked famed chef Gordon Ramsay, a staple in the world of televised cooking competitions, wondering what he would say.

Netizens made no bones about how terrible Mr. Ng's dessert looked, hilariously comparing it to a loose bowel movement from the Hulk.

MasterChef Singapore apologized to one netizen disappointed at the results of the competition, but graciously thanked the commenter for watching the show.

Follow us on Social Media
Send in your scoops to news@theindependent.sg