A video of an older man instructing a young man to clean up after himself after he caught the young man urinating under a HDB block has gone viral online. Both men appear to be locals.
In the video, the older man can be heard asking the young man why he urinated under the block and whether he could not have used a proper toilet instead. The older man warns the younger one that he will post the video he is taking on Facebook and call the police if the young man does not clean up.
The young man, who indicates that he is drunk, accepts that he will clean up the urine but says that he will do so after the older man leaves the place. The older man refuses to do so and stands his ground.
At one point in the exchange, the older man says, "I was young as you before also. You think what?" To this, the young man says, "Young time you never do anything ah?" prompting the older man to assert, "Young time I do stupid thing also. I got my lesson learned. Now you got your lesson to learn."
https://www.facebook.com/allsgstuff/videos/2702660619874650/
While the video garnered over 60,000 views, nearly 900 shares and nearly 600 reactions on social media, netizens who commented on the video appear to be divided.
Some praised the older man for being bold enough to confront the younger one while others felt that the older man should not have publicly shamed the younger man by sharing the video on social media: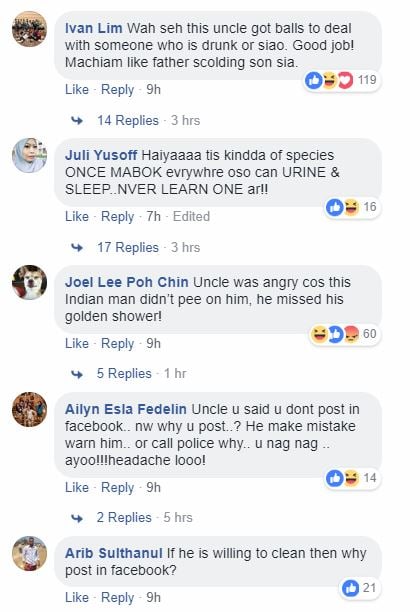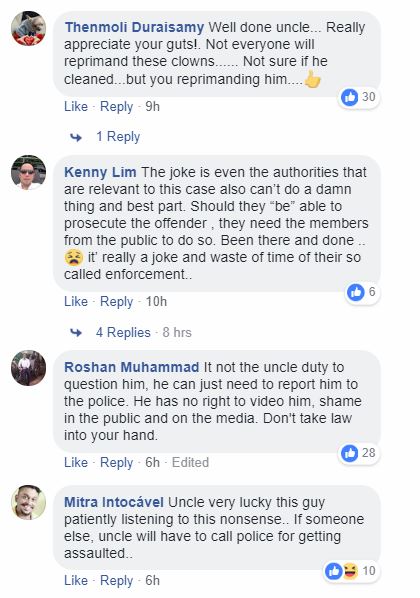 Follow us on Social Media
Send in your scoops to news@theindependent.sg