Netizen Akim Ahchoo took to Facebook on September 17th to show how, ironically enough, a National Environment Office (NEA) building is full of Aedes mosquitoes. The post even showed two photos of an arm, presumably of the poster,  with a mosquito on it.
The NEA building is near Newton MRT Station Exit B. Mr. Achoo claimed that even while standing still for less than five minutes, a dozen Aedes mosquitoes bit him and those who were standing nearby.
The post also included a picture of the location where the mosquitos abounded, as well as screenshots of information about the Aedes mosquito, one of which, ironically again, was from the NEA website itself. It reads, "The viruses that causes dengue fever and Zika are carried by the Aedes mosquito. As the bite of an infective Aedes mosquito spreads diseases, it is crucial to prevent its breeding. The Aedes mosquito is easily identifiable by the distinctive black and white stripes on its body. It prefers to breed in clean, stagnant water easily found in our homes. You can get rid of the Aedes mosquito by frequently checking and removing stagnant water in your premises."
Mr. Achoo ends his post with an appeal to the NEA to do something about the mosquitoes in their own vicinity, saying, "Please do not go so far everyday to do prevention when the problem is just near you."
Since he put up his post on September 17, it has been shared more than 550 ties, by  netizens alarmed at the situation. Several commenters even tagged the NEA Facebook page, who did not respond to the post, but did put up a post about Aedes mosquitos the next day.
https://www.facebook.com/akim.ahchoo/posts/1111943418955734
Unsurprisingly, commenters were not very kind to the NEA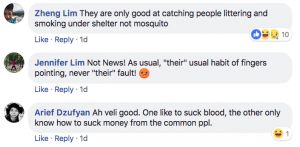 Some made light of the situation by joking about it

Follow us on Social Media
Send in your scoops to news@theindependent.sg