Turning the page in what feels like the last chapter for Singapore's bookstores, Times bookstore in Centrepoint has declared that it will be closing its doors on September 23. It is the fifth bookstore to shut down since April, in the wake of MPH, Kinokuniya and Popular's outlet closure announcements.
It is another sad day in the life of a book lover in Singapore as yet another bookstore outlet lowers its shutters in farewell.
Times bookstore in Centrepoint has marked September 23 as its last day to serve its customers. Mark your calendars, too; there's still time to say goodbye to this particular bookshop with a good old stroll amidst its shelves and of course, a goodbye book haul.
While other bookstore outlets have cited high rental rates and online competition as reasons for closure, a Times spokesman told TNP that the shut down is "part of Times bookstores' ongoing renewal of store locations from time to time".
While the Centrepoint outlet will be sorely missed, bookworms can still wind their way to other Times bookstore branches that will remain open at the following places; — Paragon, Plaza Singapura, Jelita, Marina Square, Tampines 1 and Waterway Point, as well as online at GoGuru.com.sg.
This closure comes as both a shock and a grim realisation that there is an unhappy trend at play.
Japanese bookstore brand Books Kinokuniya closed its Liang Court outlet on April 21, after 36 long years of operation.
Local bookshop chain Popular also said goodbye to its Thomson Plaza outlet on June 23 of this year, after a three-decade (31 years) stint there.
And the closures did not stop there. Malaysian chain MPH announced double shut-downs — its Raffles City outlet closed on July 28, and its last Singapore branch on Parkway Parade is also saying sayonara on September 1.
MPH said that while there will be no more Singapore outlets for the time being, it might be the end of the road for the beloved Malaysian bookstore's presence in Singapore as they are exploring the possibility of new locations in the future.
Amidst all these closures lies a difficult truth — unattainable rental rates and the ever-looming presence of online book retailers, not to mention the growing popularity of e-readers, signalling an unmistakable change in the fate of brick-and-mortar bookstores and physical tomes.
Times have been so difficult that bookstores have admitted to resorting to creative methods to get customers through their doors, hosting a slew of events that book lovers might enjoy. Author signings, yoga classes, DIY-seminars and the like — anything to get people inside, closer to the books.
Say goodbye to Times Centrepoint by indulging in a good old book buying session. They have announced a moving out sale with a 50 percent discount for members and 30 percent discount for non-members, ongoing until September 23.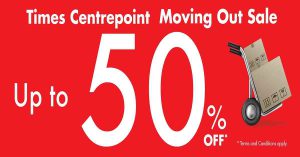 Meanwhile, Times is also offering a National Day Giveaway through a 3-part trivia challenge.
Check out the post on their Facebook page and stand a chance to win $20 GoGuru and $20 Times bookstores vouchers, which you can use during the moving out sale!
-/TISG