South Korean all-boy rock band Day6 has set off on their 2019 "Gravity" World Tour with 26 stops across the globe, ready to serenade their fans with their heart-warming tunes. The group will perform in Singapore for the first time on October 5 at The Star Theatre.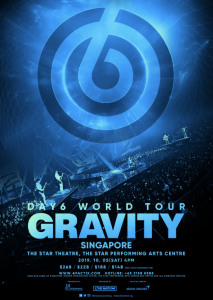 The five-member K-pop group—with members Sung-jin, Jae, Young K, Won-pil and Do-woon—made waves when they entered the Korean music scene in 2015 with their swoon-worthy looks and emotional pop and alternative rock songs.
Day6 has recorded five EPs and three studio albums; fan favourite songs include "Shoot Me" and "Congratulations".
"The Book Of Us: Gravity", their fifth EP released just last month, peaked at No. 9 on Billboard's World Albums chart.
The song "Time Of Our Life" on the EP ranked number 1 on music programmes "Show Champion" and "M Countdown".
Day6 fans are called "My Day", and the hype on social media shows that they cannot wait to see their idols perform in person.
The "Gravity" World Tour is Day6's second world tour, and this time, Singapore is on the lucky list of cities and the group's 11th stop.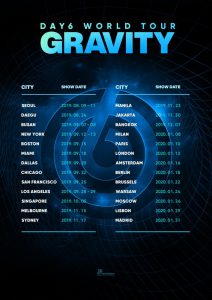 Tickets for the concert will go on sale on Sunday, August 18 at https://www.apactix.com/events/detail/day6-2019.
Live Nation members get to purchase tickets in advance on Saturday, August 17, from 10am to 11.59pm at www.livenation.sg.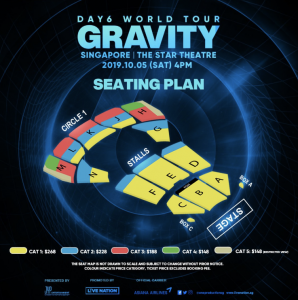 Here are the details you need to know:
WHAT: DAY6 "GRAVITY" WORLD TOUR
WHERE: The Star Theatre, The Star Performing Arts Theatre, 04-01 1 Vista Exchange Green
WHEN: Saturday, October 5, 4pm
ADMISSION: $148 to $268 from Apactix (go to www.apactix.com or call +65 3158-8588)
Those who purchase Category 1 ($268) tickets may automatically enter a lucky draw, the winners of which will join in a Hi-Touch, personal session with the band.
Winners of the draw will be announced three days before the show, so stay tuned! /TISG