On Tuesday, February 19, Facebook page Legit Singapore featured a video of Workers' Party and opposition leader Pritam Singh singing a song in Hokkien, much to the delight of many netizens.
The event was in celebration of Chinese New Year, and the Workers' Party leader is seen in a red shirt with gold trimming. 
Singh was seen gamely crooning along to a soundtrack after a female singer finished her part. The Member of Parliament sang a song entitled, "Ai Piah Jia Eh Yia."
https://www.facebook.com/legitsingapore/videos/1223390477811759/
The lyrics of the song were as follows:
But life really is just like the tide of the sea
There are ups and there are downs
Good luck, bad luck
You still got to wake up and go to work
30 percent is Heaven's will
70 percent is hard work
You have to give your all if you want to win.
He then thanked everyone in the audience, and wished them, "Gong Xi Fa Cai!" The crowd was heard cheering enthusiastically.
In the video uploaded by Legit Singapore, Pritam Singh's Workers' Party leaders Sylvia Lim and Low Thia Khiang can also be seen, with Ms. Lim seemingly nodding and singing along at one part.
Netizens had positive reactions to the head of the Workers' Party.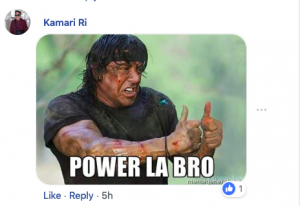 Others chose to cheer the whole Workers' Party
Yet other netizens commended him for learning a song in Hokkien, which is not an easy feat


Others seem to prove that Jovina jokes is still alive and kicking

And one netizen wondered if we will be treated to similar displays of showmanship from PAP leaders for Chinese New Year 2020

Apparently it was not the first time Pritam Singh sang his heart out in Hokkien. Videos of him singing Hokkien songs from 2012 and 2013 can be seen on YouTube.
We have two burning questions, however.
Is he embarking on a solo career anytime soon?
How many of us believe he should stick to his day job?
Follow us on Social Media
Send in your scoops to news@theindependent.sg