The eighty per cent of Singaporeans living in public housing were left with many questions and even greater uncertainty about the depreciating value of their Housing Development Board (HDB) flats after Prime Minister Lee Hsien Loong's National Day Rally.
Prime Minister explained that "Young couples buying a flat today probably would not see such a huge appreciation as [those] who bought the flat 40 years ago, because our economy is maturing and it cannot grow as fast anymore. But you still get a good headstart because the Government helps you out with a subsidised flat or housing grants, and often both. And as long as our economy grows, the value of the flat will go up for many years, just not as dramatically".
PM Lee then also added, "after living in your flat for 30 or 40 years, it will still have a good 60+ years of lease left. That is long enough for it to retain substantial value, and be a good retirement nest egg"
He then suggested that if one did not want to pass on the flat to their children, that they could "Or you can go for Lease Buyback and return the remaining lease to HDB, then use the money you get back for retirement".
While PM Lee addressed the issue of selling a HDB flat with the possibility of opting for returning the lease to HDB, many Singaporeans griped about how this did not address their concerns of retaining the value of their HDB flat, much less helping to increase its value.
On the topic of homeowners outliving their HDB leases, PM Lee said, "HDB estimates that it will happen to less than 2 per cent of households, including those who have bought resale flats. So it is not likely to happen to you. It could happen, but not likely. It could happen to your children if they inherit your flat".
Netizens spoke out against HDB's 99-year lease scheme for flats. The topic of homeowners and lease-owners was brought up, concluding that those residing in HDB flats were disadvantaged because they had to pay for their flats instead of rental amounts, yet had to return the flats at the end of the lease.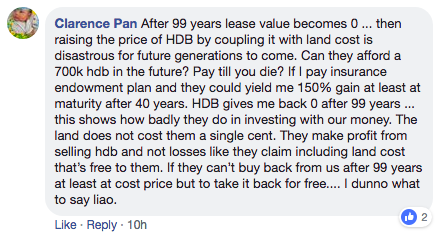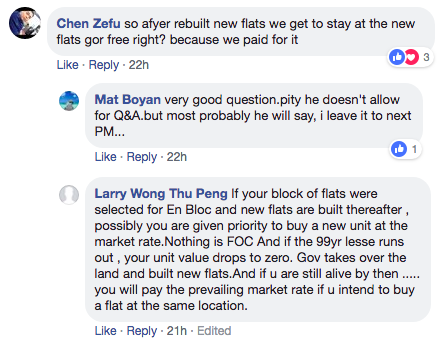 ________________________________________________________________________
obbana@theindependent.sg
Follow us on Social Media
Send in your scoops to news@theindependent.sg