"What about burning joss papers?" Via Facebook, netizens asked concerning the proposal from an MP that cigarette smokers prevent smoke from escaping their flats. "What about the trash from burning them?" "What about smokers in hawkers' centers?" "What about exhaust fumes?"
The Smoking (Prohibition in Certain Places) Act was passed on Monday, September 10. But for some Members of Parliament, this was not enough. In response to the issue of secondhand smoke coming from neighbouring houses, Tanjong Pagar GRC MP Joan Pereira proposed that people who want to smoke in their own homes should make sure that smoke does not escape their flats.
She said, "Windows and doors should be closed when smoking. Smokers may consider installing an air filter in their rooms. They should not be standing near the windows, doors or corridors to smoke. If smoke is detected outside of the flat, the resident should then be considered to have violated the law."
Perhaps feeling that Ms. Pereira's solution was too simplistic and did not get to the root of real problems or fails to address equally troubling issues, netizens quickly responded to Ms. Pereira's proposal, bringing up several other problems, including the smoke that comes from burning joss paper inside their homes, saying that this is actually worse than cigarette smoke. 


However, other netizens said this is a more sensitive subject, since it is a religious matter that could cause arguments among neighbors.

The online conversation then turned to the trash that results from the joss sticks that are burned

Other netizens were concerned that this proposal is another step toward over-regulation and the curbing of personal freedoms


Others considered the proposal to be half-baked and proposed stricter measures to cut the bad effects of smoking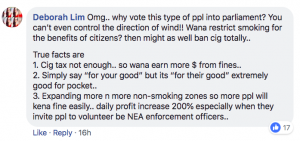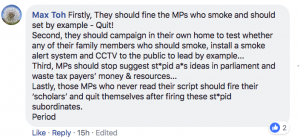 Others brought up the problem of secondhand smoke in public places such as hawker centers

Another netizen brought up smoke from exhaust fumes

One netizen joked that maybe all things should be banned from HDB flats

Follow us on Social Media
Send in your scoops to news@theindependent.sg