The Public Transport Council (PTC) announced on Monday, September 3, that fares for trains and buses could go up by as much as 4.3 percent next year, which is equivalent to less than ten cents for every journey taken. Despite the explanation why this is so, Singaporeans are less than happy with the news, with some asking, "What else (will) never increase?"
The most recent fare review exercise has just begun. Prices of public transport fares have gone down three years in a row, reflecting the fact that the price of petrol has gone consistently down over the same time frame. However, fuel prices have gone up recently, and this, plus the high rate of inflation as well as the increase of wages for rail employees and bus captains, is behind the proposed higher prices.
A new factor was introduced in computing the price of fares as well. This is called Network Capacity Factor (NCF), which will follow the changes in operating expenses due to increases in capacity and usage of the expanding rail network.
Since growth in capacity of the public transport network overtook ridership growth, this resulted in the additional 3 percent to the overall current fare review.
There is also a new formula for calculating fares which applies for 2018-2022 also takes into consideration changes in the following indexes in the past year: Wage Indx, Energy Index and core Consumer Price Index.
The fare formula undergoes a review every five years, the most recent one was done in 2013. According to PTC council member Associate Professor Vincent Chua of the University of Social Sciences (SUSS), fares should not increase by more than 10 cents for every journey. The last review resulted in a 2.8 increase, or a 2 to 5 cent increase for adult fares for every journey.
However, the decrease fares over the last three years have resulted in a 8.3 cent total reduction, which is considered by Mr. Chua to be not only unprecedented, but actually a "good example of how the PTC has been disciplined in implementing the fare formula".
He pointed out that for 2015, the fares for trains and busses were down by 4 cents, and in 2016, by 27 cents. In 2017, some fares were discounted by 50 cents. He called these changes significant.
It is the PTC's mandate to closely follow how affordable public transport fares are for commuters from an average income group, as well as those who belong to lower income groups.
Historically, infrastructure costs have been shouldered by the government, but Mr. Chua fears this will not be feasible in the future. He advocates for a balance between sustainability and affordability.
Experts such as Economist Walter Theseira from the SUSS consider the 4.3 percent increase to be reasonable, given the price reductions over the past few years. "If you look at the trend, it is pretty clear that you cannot depend on low energy prices… And indeed energy prices went up."
Dr. Theseira also said that Singapore has the "luxury of being a fairly rich country and strong tax base", which means that the government can improve services while not burdening commuters with additional costs, unlike in other countries.
He said, "The real challenge is how do we get value for money and get people to support paying public transport fares."
If there are additional changes in fare prices they will be announced by the end of 2018, in the period following the first of October, which is the deadline for the submission of fare applications from public transport operators.
Netizens are, unsurprisingly, unhappy with the announcement of the price increase in public transport fares.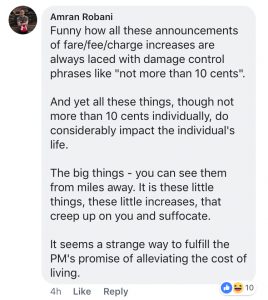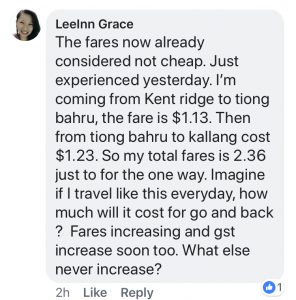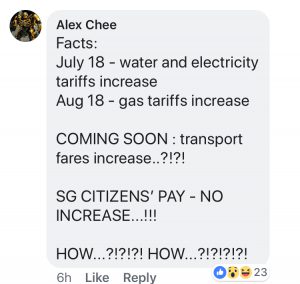 Others lamented that the price was already high to start with

However, there were other netizens who encouraged others to accept the price increase as necessary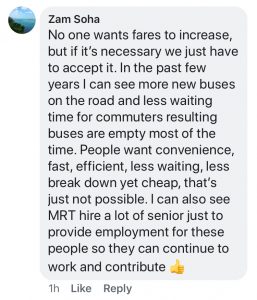 Follow us on Social Media
Send in your scoops to news@theindependent.sg