Motorists riding superbikes that were registered in Singapore were caught over-speeding on Plus Highway Selatan Ke Utara, a Malaysian highway on February 2 last week.
The incident was filmed in a Facebook video posted on the page ROADS.sg. It went viral, garnering a total of 375K views, 1.3K reactions, 1.1K comments and 2.2K shares as of the moment of writing.
"We, Singapore motorist using Malaysian roads are no angels either. Here we see a group of Singapore bikers covering up their registration plates probably avoiding the AES (Automated Enforcement System) for speeding tickets," the caption read.
Their license plates were blacked out using what appears to be black tape.
Netizens' reactions to the video were mostly written in a disapproving tone.
"Drive big motorbike but no money [to] pay summons," said one commentator.
"I hope the Malaysian Police catch these bikers and confiscate their machines," said another.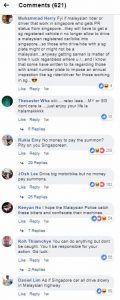 In an article written by See Hua last February 4, it mentioned that the Malaysian police caught the violators and had issued traffic tickets to them, according to National Police Chief Tan Srifitz.
It also showed a screen capture of a speed camera, logging that a vehicle was running at the speed of 253 kilometers per hour.
In another article by Mothership SG, it said that from 2000 to 2017, Singaporean motorists who have violations in Malaysia have accumulated around 180,000 unpaid summons.
Watch the video here:
https://www.facebook.com/Roads.sg/videos/536588093496302/Follow us on Social Media
Send in your scoops to news@theindependent.sg