Veteran politician Dr Tan Cheng Bock encouraged good men to take an interest and serve in politics, in a new Facebook post in which he shared the quote, "The penalty that good men pay for not being interested in politics is to be governed by men worse than them."
The quote is is a variant of Greek philosopher Plato's saying, "The price good men pay for indifference to public affairs is to be ruled by evil men."
Sharing a photo of a framed picture bearing the quote and a Singapore stamp featuring old Parliament House, Dr Tan wrote on Facebook:
"Two friends visited me and saw a framed picture of old Parliament House with these wise words.It was given to me in 2001 by a lawyer friend.

"How true! Give some thought to this. Singapore will always need good men of passion, commitment, stamina and a sense of duty to serve."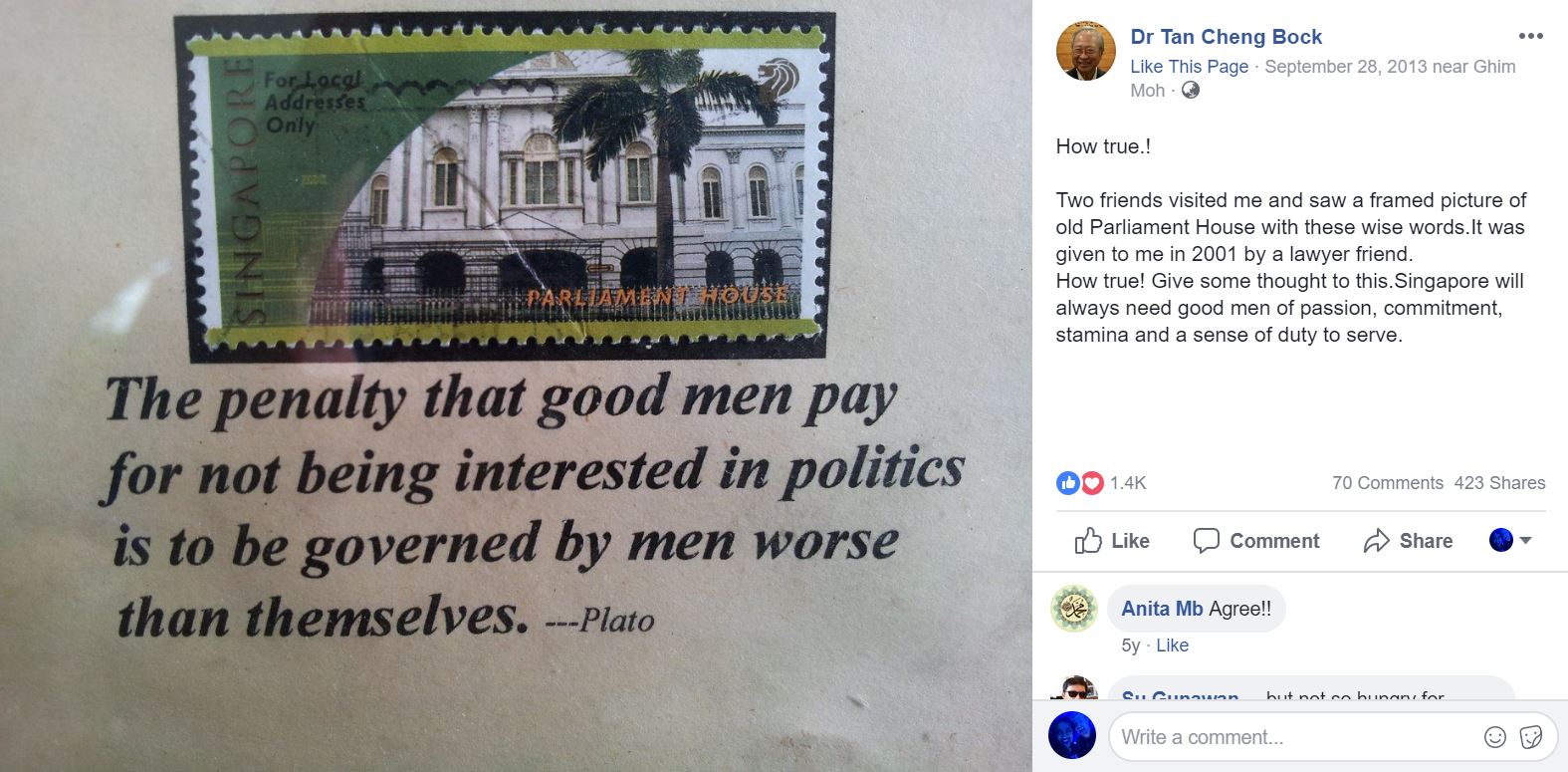 Incidentally, these are the first comments Dr Tan – a former ruling party parliamentarian and ex-presidential candidate – made after a meeting in which he was invited by several members of the opposition in Singapore to unite the various opposition parties and lead them to victory against the PAP during the next election.
Seven opposition parties in Singapore came together in July and discussed forming a new coalition and having Dr Tan as their leader. The parties are the Singapore Democratic Party, the National Solidarity Party, the People's Power Party, the Democratic Progressive Party, the Reform Party, and the yet-to-be-registered People's Voice.
The meeting of the seven parties, organised by the SDP, came on the heels of another SDP-organised meeting where several opposition parties came together to hear Malaysian politician Chua Tian Chang speak about how the opposition coalition Pakatan Harapan achieved their historic victory in the polls across the causeway during the watershed 2018 Malaysian General Election.
In May, former Malaysian Prime Minister Dr Mahathir Mohamad left the ruling party to band the opposition in Malaysia together. The opposition coalition soundly defeated the ruling coalition and toppled Dr Mahathir's former protege Najib Razak who now faces corruption charges over the 1MDB scandal.
Calls for Dr Tan Cheng Bock to "do a Mahathir" resounded after the Malaysian Election. Although Dr Tan was present at the meeting with the 7 opposition parties as an observer, he has yet to give a direct answer on whether he will or won't accept the invitation to lead an opposition coalition.
Dr Tan only said at the time:
"I think I must help but in what capacity, I have not decided.

"I am now 78 years old. I may only have a short time to mentor a team to work for the good of the nation. This is a small window of opportunity, a moment for ubah (change in Malay). I want to put my last years to good use. I want to pass all that I have acquired and learned in the political arena to the next generation.

"I would regret it if I had the chance to make a difference, but did nothing."
Follow us on Social Media
Send in your scoops to news@theindependent.sg