Despite more than 50 years of independence, web sites can still make the mistake of thinking Singapore is part of Malaysia.
And not just any old website, mind you, the latest faux pas misidentifying the little red dot as part of our dear neighbors to the north is actually a luxe fashion and lifestyle website helmed by a longtime maven.
Insert collective shaking of heads right here.
The Zoe Report, which describes itself as a "trusted destination made for and by women who live and create personal style," was founded by Rachel Zoe Rosenzweig, a well-known fashion designer based in the United States who debuted her own reality show, "The Rachel Zoe Project" about a decade ago.
On its website on Wednesday, February 20, writer Angela Melero published an article on "The Most Expensive Cities In The World To Live In, According To Experts."
Number three on the list, right after Hong Kong, China and Zurich, Switzerland, came "Singapore, Malaysia."
Ooooops!
The paragraph for "Singapore, Malaysia" began with "The Malaysian island city-state's wealth may have been spotlighted in the recent blockbuster Crazy Rich Asians, but Singapore's reputation as the most expensive place in the world (ranked by The Economist) has been long held."
Double oops!
Sharp-eyed netizens spotted the mistake, including @TypicalMalaysian, who posted a screen cap of the error from the Zoe Report and captioned it with "Singapore, Malaysia" followed by three facepalm emojis.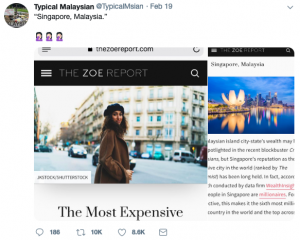 Of course, commenters had a field day with the post.
"No wonder there's no concert tours in Malaysia it's because they thought they've got us covered with SG," tweeted @rosegoldegobox

While @__cfyh wrote "Their internet is so slow, it took them that long to get that info"

Others just chose to have a history lesson of sorts
Wan Noor Latiff @wnlatiff tweeted, "Whoever made this article just wanted to remind us that Singapore WAS a part of Malaysia back then #BaikSangka"

@aliasaid_ tweeted what everyone was probably thinking. "Someone need to study the map"

And this, too
MichaelJ @mjquasar tweeted, "Errr…..Welcome back, Singapore? lol"

Sam@sam336699 "WELCOME HOME Singapura!!!!!!!"

And this
AkmalDanish @Boyottttt wrote, "Sounds like someone had failed geography"

Or this
Danial Ariff @dansontheroad wrote, "Let's party like it's 1963!"

Some netizens took delight in pointing out the irony of having the word "experts" in the title
More @msrhyxd Replying to @TypicalMsian ˝According to the experts˝

Kween @fatinfrzh wrote, "Its funny how they phrasing 'according to experts'"

Still, one person tried to set the author straight as simply as possible
Khairul Fadzly @NagaKarat tweeted, "Divorced already lah."

Corrections were made, eventually
After around 14 hours, the error was corrected on the article on The Zoe Report, which now simply reads, "Singapore."
We wonder if the writer, whom we imagine may have been cross-eyed with fatigue, may have Googled "Singapore" and seen that the first page that pops up has an entry on the right that begins with "Singapore, an island city-state off southern Malaysia…"
Perhaps the writer read "off" as "of," which denotes possession.
But then, that's why fact-checkers earn their keep.

Follow us on Social Media
Send in your scoops to news@theindependent.sg