The Singapore Armed Forces (SAF) praised on-duty medics for being swift and vigilant when they rushed to the aid of a foreign worker who had been hit by a minibus outside their camp last Monday, February 18.
The incident was posted on Facebook by the Singapore Army on Wednesday, February 20, narrating how the medics on duty at Mandai Hill Camp Medical Centre quickly went to help him when they heard about the road accident.
SAF medical personnel who responded to the incident are CPL Joseph Andrei Aczon Dacanay, 3SG Ni Xu Gang Metta, CPT (DR) Vikram Manian, CPL B Aravind Krishna, LCP David Lee Wei Ming and CPL Kinson Tan Kai Feng.
They found a man lying on the road, injured. Medical officer CPT (DR) Vikram made an initial assessment of the injuries to the 46-year-old foreign worker.
After this, the medics performed spine stabilisation and applied compression and dressing to his head wounds "preventing further escalation of the injury."
CPT (DR) Vikram Manian, Medical Officer, 1st Battalion, Singapore Infantry Regiment (1 SIR) said, "A few of us, who were on duty within the medical centre, immediately rushed out to the scene to provide medical support to the injured man after being informed about the incident.
"When we arrived at the scene, we saw the injured man lying motionless on the road just outside of our camp. As a Medical Officer, I did the initial assessment, and along with a few of my medics, we immediately provided spine stabilisation, compression, and dressing to the head and facial wounds.
"The main aim was to prevent further escalation of the injuries before handing the injured man over to the SCDF paramedics who arrived shortly. He was then taken to Khoo Teck Puat Hospital for further treatment."
CPT (DR) Vikram added: "As professional medical personnel, it is our duty to help out anyone who is injured or in need of medical attention. Safety is part of our core values, and we have to provide swift and proper treatment to others who need medical attention."
Soon afterward, SCGF paramedics brought the injured foreign worker to Khoo Teck Puat Hospital.
The Facebook post also contained a quote from 3SG Metta, who said that "as a soldier and a trained medic, we were taught that we have to care beyond our military community. We have to care for anyone in need in our civilian society as well."
Here is the Singapore Army's post in full
On 18 Feb (Mon), at about 0900hrs, Mandai Hill Camp Medical Centre was informed of a road traffic accident just outside its camp premises. CPT (DR) Vikram, 3SG Metta, CPL Joseph, CPL Aravind, CPL Kinson and LCP David who were going about their daily duty, rushed down immediately and provided medical support to a civilian who was injured and lying on the road. After an initial assessment by the medical officer CPT (DR) Vikram, they provided cervical spine stabilisation, compression and dressing to the head wound preventing further escalation of the injury. The SCDF paramedics arrived soon after to evacuate the casualty to Khoo Teck Puat Hospital.
Our Singapore Army would like to wish the injured man a speedy recovery and commend our servicemen for always being ready to step forward when the need arises!
#ArmyReadySoldierStrong
Album by CPL Shawn Cheow and CPL Sean Seah (Army News)
Shin Min Daily News reported that the driver of the minibus had operated the vehicle without asking permission. He was arrested by the police for not having a valid driver's license, as well as driving the minibus without permission from the owner.
Many netizens lauded the medics for helping the injured worker.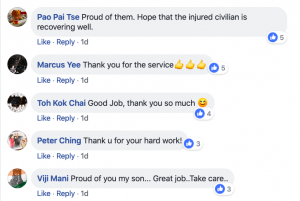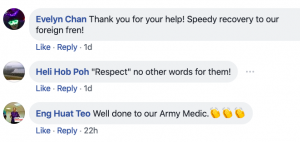 This netizen was widely lambasted for her remarks.
Follow us on Social Media
Send in your scoops to news@theindependent.sg 
No tags for this post.