Rumours that noted entrepreneur Alfred Tan is set to contest the next General Election (GE) as an opposition candidate under the Singapore Democratic Party (SDP) ticket is circulating online.
Mr Tan is an experienced banker turned entrepreneur who launched the famous local cafe chain, Kopi Ong. Dedicated to serving Singapore-style traditional coffees and teas, Kopi Ong opened its doors at Raffles Place in April 2016 and now has three outlets.
Kopi Ong has received rave reviews and has a devoted following in Singapore while Mr Tan's innovative methods of attracting and catering to his customers, including using a Facebook messenger chatbot to take orders, have drawn coverage from mainstream media publications like The Straits Times, The New Paper, TODAY and Lianhe Zaobao.
According to local website RedWire Times, Mr Tan could join opposition politics. Citing unnamed sources, the publication reported on Saturday (10 Aug) that Mr Tan "is considering an offer from the SDP" and that he is "said to be in "prime spot" to contest for the Singapore Democratic Party in the coming General Election."
The publication added that Mr Tan "has actively participated in the SDP's recent walkabouts."
Mr Tan was last seen at an SDP forum last September. He spoke on housing problems in Singapore and slammed the government's public housing policy for causing "senseless market speculative activities".
He echoed the views of many Singaporeans during the forum when he criticised the Asset Enhancement Scheme for inflating the prices of HDB flats when their real value plummets as the lease runs out:
SDP's secretary-general, Dr Chee Soon Juan, shared Mr Tan's views on his personal page, last year. He wrote:
"Mr Alfred Tan said that the PAP still refuses to acknowledge the policy blunder. He said that one of the key basic disciplines in problem solving is admitting that there is a problem. Only when there is an admission of misjudgment can the first step be taken towards a real and meaningful resolution and rectification of the problem.

""Is the PAP government prepared to man up and admit this misstep?" Mr Tan asked."
When ex-Middle Ground editor Daniel Yap shared the RedWire Times' article on Mr Tan's potential entry into the SDP, his post was "liked" by SDP chairman, Dr Paul Tambyah.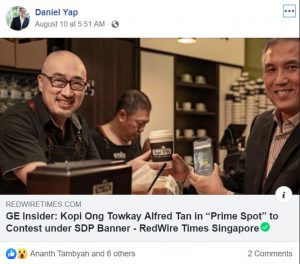 The Independent has reached out to the SDP for comment and will update this article once we receive a response. -/TISG