The administrators of Singaporeans Defending Marriage and Family (SDMF) have sought the forgiveness from members of the LGBT community for possibly hurting or offending them with their "unhelpful and often insensitive" remarks.
SDMF has been quite a vocal anti-LGBT proponent in the past, frequently speaking out against Singapore's pride movement Pink Dot.
The group has also made headlines for urging fellow Singaporeans to boycott companies that support Pink Dot, for protesting former US President Barack Obama from visiting Singapore since he is a "marxist socialist," and for protesting gory Halloween decorations installed downtown.
In a Facebook post this morning, SDMF made a "sincere" apology to those "struggling with same-sex attraction". Adding that it is yearning to "learn and grow to be able to walk with you more effectively in your journey," the group wrote:
"To many who are out there struggling with same-sex attraction, gender confusion, any sin, any weakness, failure or addictive behaviour, trying to make sense of what you are going through and we hurt, frustrated and offended you with our unhelpful and often insensitive response, we sincerely apologise and ask for your forgiveness…

"We are deeply sorry.

"We have much to learn.

"We need and want to learn and grow to be able to walk with you more effectively in your journey..

"True and real love is learning also to respond in a helpful and useful way to those who are struggling and trying to make sense of what they are experiencing.."
Interestingly, just a day before publishing this apology, SDMF wrote in a separate post yesterday:
"If we really care about the LGBT community, we should realise that homosexuality was a psychological disorder in APA's DSM before LGBT activists politically manipulated APA

 to have it removed in 1973 and it was never based on conclusive scientific research..

"To support Pink Dot and the Sexual Rights Agenda with or without realising this important historical fact is depriving the LGBT community of their right to know that it had been a psychological disorder and they have a right to know that they can be treated."
Meanwhile, the page administrator who posted the uncharacteristic apology on Facebook shared the story of a "dear friend" who participated in a campaign by True Love Is that interviewed Christians who experience same-sex attraction who spoke about whether it is safe to come out in church.
The interviewee had shared: "As a Christian with same-sex attraction, the burden and cry of my heart has always been to build bridges between the church community and the LGBTQ community. I hope that what my friends and I have shared in this video would contribute toward this important effort."
The four Christians who were interviewed by True Love Is described how the church treated them for having same-sex attraction and how they were led to come out to their churches:
Is it safe for Christians who experience same-sex attraction to come out in church?

Posted by Truelove.is on Tuesday, 10 July 2018
Published this morning, the True Love Is video has quickly garnered about 16,000 views so far. A majority of the netizens who have responded to the video so far appear to be Christians.
These netizens thanked the four interviewees for courageously sharing their stories and expressed their love and support for those facing same-sex attraction: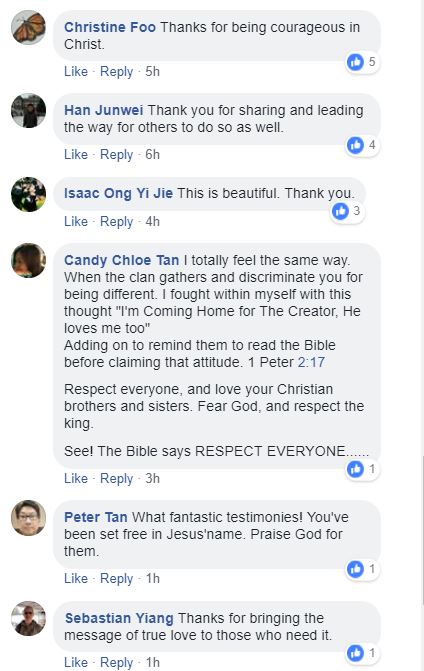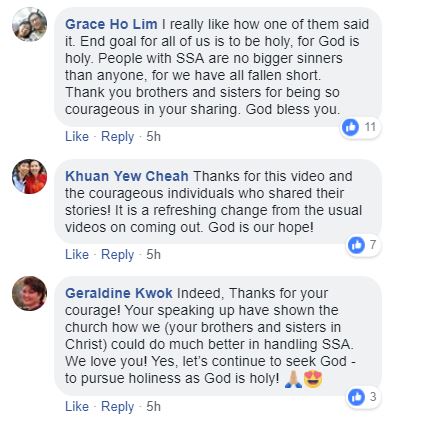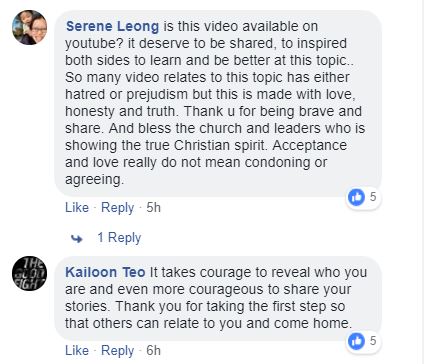 Follow us on Social Media
Send in your scoops to news@theindependent.sg