An old photo of late veteran politician J. B. Jeyaretnam is going viral on social media after Singapore Democratic Party (SDP) chief Dr Chee Soon Juan shared the picture on social media to mark the late opposition stalwart's 10th death anniversary.
Besides Jeyaretnam and Dr Chee, the photo also shows former Workers' Party (WP) leader Low Thia Khiang, founding chairman of Barisan Sosialis Dr Lee Siew Choh, Francis Yong and the Democratic People's Party's Seow Khee Leng gathered at the invitation of Dr Chee at a New Year's celebration.
Jeyaretnam became the first opposition politician since Singapore's independence in 1965 to win a seat in Parliament, when he defeated Pang Kim Hin of the governing People's Action Party (PAP) in a by-election in Anson Single Member Constituency in 1981.
Jeyaretnam, who served as the leader of the WP between 1971 and 2001, was re-elected at the 1984 general election, but lost his seat in Parliament in 1986 following a conviction for falsely accounting the party's funds. His conviction was subsequently overturned by the Judicial Committee of the Privy Council, which called the conviction a "grievous injustice".
The veteran politician returned to Parliament after the 1997 general election as a Non-Constituency Member of Parliament (NCMP) but he was stripped of his NCMP seat in 2001 when he was declared bankrupt after failing to keep up with payments for damages owed to PAP leaders as a result of a libel suit. He left the Workers' Party later that year.
After he was discharged from bankruptcy in 2007, Jeyaretnam founded the Reform Party in June 2008.
Three months after forming the Reform Party, Jeyaretnam passed away due to heart failure on 30 September 2008 at the age of 82. His party is now led by his son Kenneth Jeyaretnam.
Today marks exactly one decade since Jeyaretnam passed.
Marking Jeyaretnam's 10th death anniversary, Dr Chee shared the photo above on Facebook and wrote: "He never wavered in his fight to defend the rights of his fellow citizens and never shirked his responsibility as an oppositional voice even when that responsibility was, at times, almost too much to bear. To his memory, and may his quest for a just and democratic Singapore continue among us."
Dr Chee's photo is going viral online with over 750 reactions and over 300 shares on Facebook so far.
Netizens responding to the picture shared their encounters with the late politician, notably when an unflagging Jeyaretnam had sold his books and newsletters on street corners, and praised him for his indomitable fighting spirit that always fought for Singapore: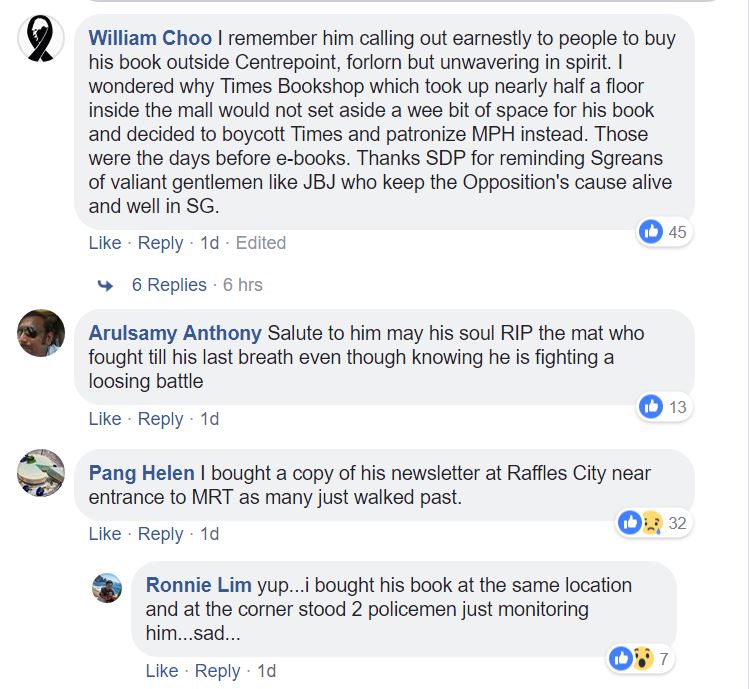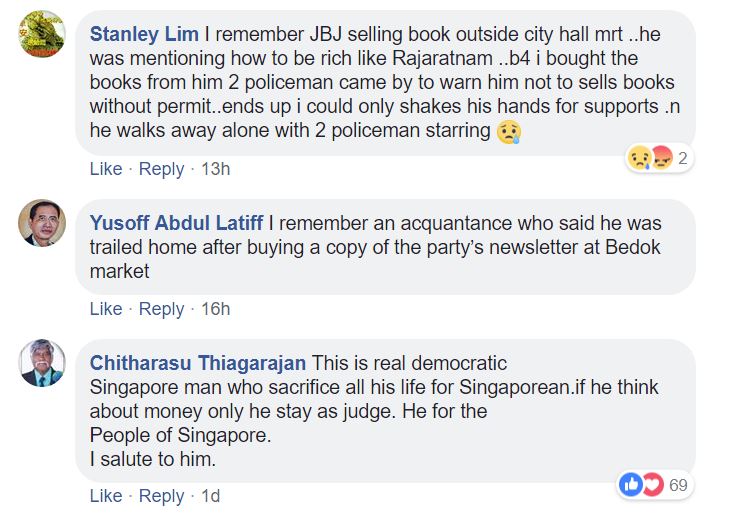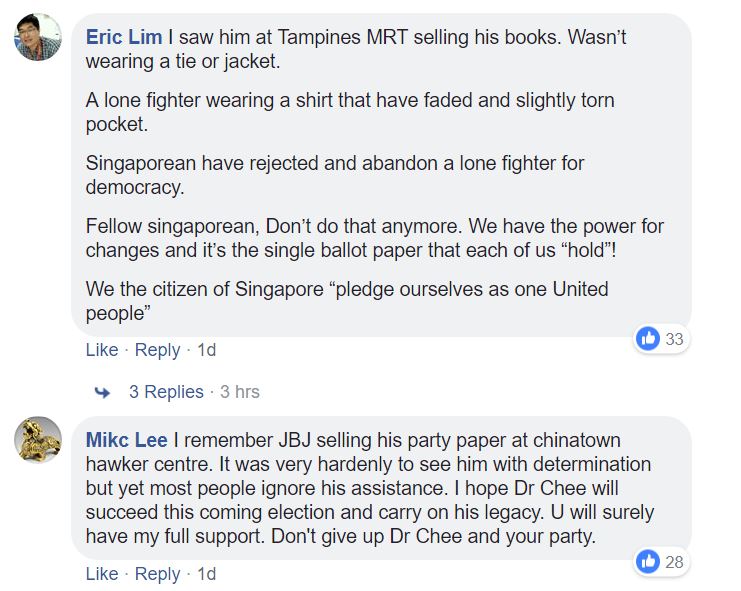 Send in your scoops to news@theindependent.sg