GOODSTUPH founder and hawker's daughter Pat Law has a lot to say about what's wrong with the hawker culture, and how to fix it.
Singapore's famed hawker culture has been in the limelight lately, with the nomination for being listed in UNESCO Representative List of the Intangible Cultural Heritage of Humanity, news about stallholders at Jurong West Hawker Centre being made to pay twenty cents for every tray that's returned, as well as a prominent feature in summer's runaway romcom hit, "Crazy Rich Asians."
However, it has come to light that being a hawker, however culturally important to Singapore, is not an easy job by any means. Pat Law, who has made a name for herself as the founder of GOODSTUPH, a social media agency, knows the problems of the hawker culture firsthand. Ms. Law is the daughter of hawkers who have been in the business for more than 40 years.
She has taken to Instagram stories to recount the tales of her parents' woes not only with customers, but also with the management of hawker centers.
First, she calls Singaporeans "shameless" for always asking for freebies–asking for the free herbal soup and homemade sambas chili that go with the duck rice her father served for S$ 3.00, even if they did not order anything. After all, the soup and the chili were "free," customers argued. While her father would eventually give in to customers demands, her mother would argue with the customers.
Ms. Law said that at one point a customer actually complained to the management of the hawker center about her mother, whereupon her mother was promptly made to apologize. On that day, Ms. Law's mother came home in tears, and told her daughter, "You better study hard. Don't be like us. No place in this world for people like us."
Secondly, she also pointed out that locals have the habit of asking for discounts, of as much as fifty percent of the price of the meal. Ms. Law wrote, "I can tell you straight off the bat that I have never met a single foreigner who'd treat a hawker that way."
Regarding problems with management, Ms. Law wrote,
"1. My parents were only allowed one day off in a week. Their stall had to stay open from 9am to 8pm.
2. My aunt passed on and my parents tried to apply for compassionate leave. Management asked why they didn't apply in advance (yup, I kid you not).
3. Rent went up from $500 to $6000 per month in 20 years. But my dad was told he cannot increase the staff prices. At $6000 per month for rent, his duck rice was $2.80 per plate.
4. My parents are made to pay GST. Which to me, doesn't f***ing even make sense, because the management will file GST anyway."
Ms. Law also posted that she will not take over her parent's hawker stall. She does not feel bad that her father's special oyster omelette recipe will not be passed on to her, "that heritage dies with him," since she refuses to be bullied by management, who end up taking credit for preserving the hawker culture of the nation.
However, being the entrepreneur that she is, she also provides suggestions for fixing hawkers' problems.
She asked, "When does it take a PhD to know what the problem is?" before suggesting some solutions
Keep rent low for hawkers. (I don't want to digress here but isn't Orchard Road Business Association the same big fat joke???)

Allow hawkers to hire foreigners.

Introduce CPF and health insurance

Have Law Soc provide consultation on contracts before they are signed.

Allow for hawkers to charge the prices they want (why do they have all the liabilities of a business owner without the freedom to control their own business?)"
Ms. Law also wrote, "I could go on and on and yeah, I really don't think you need a committee to save our hawker culture."
Many netizens have agreed with Ms. Law, and are sympathetic to hawkers for their woes. 





Many commenters have firsthand experiences of hawker or food establishment troubles themselves, and shared their own stories.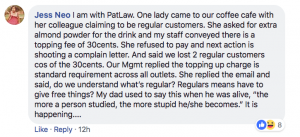 Many lauded Ms. Law for her frank appraisal of the situation, as well as the solutions she proposed.


One netizen pointed out the irony of the UN nomination.

Follow us on Social Media
Send in your scoops to news@theindependent.sg