NTUC Fairprice, a supermarket chain linked to the labour movement, has been criticised for potentially inconveniencing elderly shoppers by placing the wrong items near prices for products that are not on the same shelves.
In a post published on NTUC Fairprice's social media page, a Facebook user highlighted this issue. Asking the supermarket chain to educate its staff "on the placement of stocks on the shelves," she wrote that her mother was duped by such an incident that occurred recently.
She recounted: "My mum went and took a pack of these cereals cos she thought it's $3.95 but it turns out to be $7.65. I went and checked the shelf and sure enough, $3.95 was for some Choc Chip Digestives biscuits which were nowhere to be seen on the same shelf as you can see from the picture."
While she does not mind paying extra, she noted that the NTUC Fairprice branch her mother visited is "located in a matured estate where there's a lot of elderly folks who may not be literate in English to be able to discern that the price tag is not for the item displayed."
NTUC Fairprice replied to her post and apologised for the incident: "Hi (name), our apologies for the unpleasant experience. We will channel your feedback to our store management to take note on the proper display of products. Thank you and have a pleasant evening."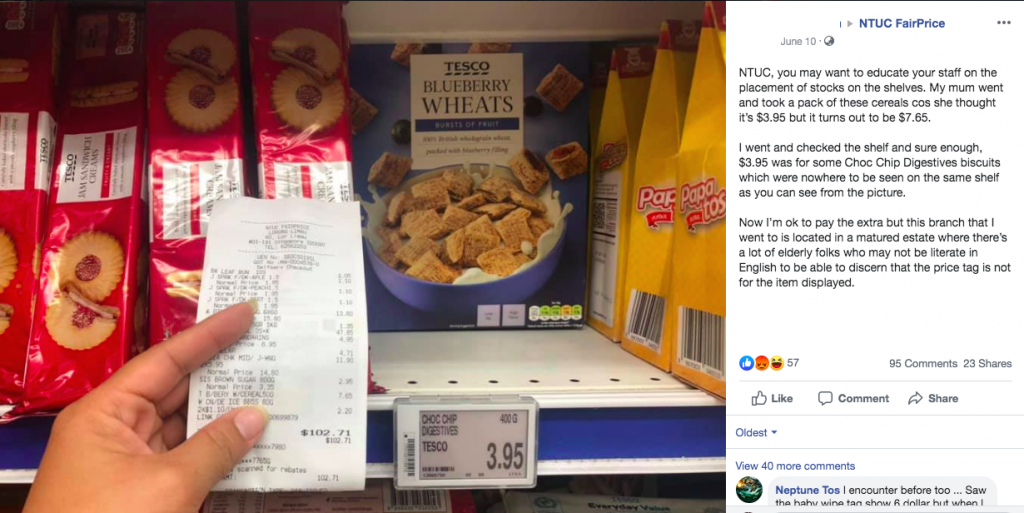 Another pricing issue at NTUC Fairprice drew backlash last year when the supermarket was found to be selling coconut water at a new special price of S$3.60 instead of the usual price of S$2.70.
https://theindependent.sg.sg/netizens-flame-ntuc-fairprice-for-selling-2-70-coconut-water-for-special-price-of-3-60/
-/TISGFollow us on Social Media
Send in your scoops to news@theindependent.sg 
No tags for this post.