For Miss Malaysia beauty queens, it's all about giving back to the community. With their recent launch of Pink Heart Care Centre, a welfare for home for elderly people without family or next-of-kin dependents, the beauties are now focusing on helping the elderly lead happy, active and secure lives.
A group of former and current Miss Malaysia Tourism queens opened the centre in Ampang, Kuala Lumpur, specifically to uplift the quality of life of seniors aged 65 and above who are alone in life without family or next-of-kin.
Pink Heart Care Centre (PHCC), spearheaded by D'Touch International managing director and Miss Tourism International president Tan Sri Danny Ooi, aims to provide shelter for 20 elderly residents.
According to Ooi, the idea for the welfare home was sparked by group's ongoing charity project called "Loving Sunday", which Miss Malaysia title holders have been running since 2014.
As part of the initiative, the beauty queens would visit different charity homes and spend time with underprivileged residents, making them smile and boosting their morale.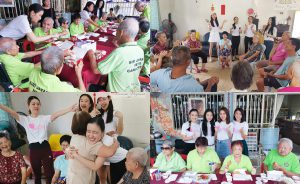 "Ever since the initiative kicked off, the queens would take turns to visit charitable homes, bringing cheers and joy to the less fortunate," said Ooi.

"However, after five years of providing this meaningful service to the underprivileged, we felt it was time to establish our own centre where the beauty queens get to spend more time with the elderly."
The centre itself is a two-storey corner lot terrace house with six bedrooms and a large kitchen. Each resident gets a sofa and TV set, bed, closet and drawer, while the kitchen is equipped with all the necessary appliances, including fridge, oven, rice cooker and stove. Hospital beds for residents who may require special medical care are also available on site.
PHCC is set to open and welcome its first residents by next month, and the expectation is to fill all 20 slots by March of 2020.
Ooi noted that in order to gain residency into the centre, applicants need to undergo a strict selection process. PHCC is working with the National Council of Senior Citizens Organisations to identify and select eligible seniors.
"The centre is solely open for the needy and underprivileged old folk with no next-of-kin or dependents, and we don't want to encourage people to bring their elderly parents or family members here," said Ooi.
PHCC aims to provide its residents with active, balanced and healthy lives, focusing on physical and mental well-being.
Everyday, fitness instructors will guide the residents in light physical exercises. They will then be able to participate in table games such as chess and caroms or in singing and dancing sessions, whichever they prefer. Healthy social interaction and enjoyment is encouraged and facilitated at the centre.
For residents' bodily needs, medical and dental check-ups will be conducted regularly. For mental peace, residents can participate in meditation sessions as well as tai chi classes.
PHCC also plans to motivate the seniors into learning new skills, as it's never too late for new hobbies or pursuits. Special classes on calligraphy or learning how to use the Internet will also be offered.
Miss Malaysia beauty queens are looking forward to spending time with the elderly residents at PHCC once it opens next month and will take turns visiting the centre once a week to spend time with the residents and give them love and care.
"Our goal is to come here regularly to make the residents feel happy," said Miss Malaysia Tourism 2003 Carrie Lee.
The estimated monthly budget to operate the centre at full capacity, including three local stay-in caretakers and expenses including rental, meals, transport, utilities and miscellaneous is around RM35,000 (S$11,450).
Earlier this year, 25 former and current Miss Malaysia beauty queens organised and hosted a charity gala dinner, raising over RM300,000 (S$98,099) for the centre.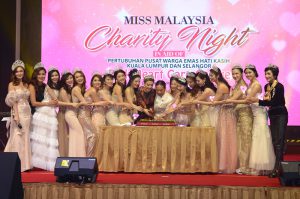 Ooi spoke of his gratitude towards the generous and caring people who donated toward the centre and said he hoped more kind-hearted people would continue their contribution to keep the home running smoothly. /TISG